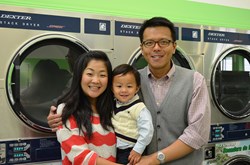 San Francisco, CA (PRWEB) August 16, 2013
Lily Li, a San Francisco-based mother who recently left her job in finance to focus on raising her new baby, is pleased to announce the opening of Lily Laundromat. This business will serve the local community in need of coin laundry services as well as replace her former salary with a job that offers a flexible schedule to take care of her child. Li previously worked for Trinity Capital, a business that specialized in financing laundries and dry cleaners. The experience of working with other business owners prepared Li for the process of acquiring her own laundry business. Li and husband Sebastian Neo, who has continued working in his chosen field, run the laundry business together and manage it around giving Li time to take care of their young child.
Capitalizing on the need for more laundry services in their community, as well as Li's knowledge of the industry, Neo and Li decided to open their own business. The couple contacted Bryan Maxwell, regional sales manager at Western State Design, to broker the deal for their coin op laundry as well as to outfit the shop with new machines. The building had the infrastructure suitable for a laundry operation, but Li and Neo needed to purchase new equipment. After having several conversations about budget and expectations, the couple decided to move forward with the space on Bryant St. in San Francisco and start their laundry business. Maxwell assisted them in the acquisition and purchase of the laundry equipment, as well as navigating the necessary city permits. Two months after Neo and Li signed the lease for the space, Lily Laundromat was open for business.
Neo and Li were excited to create a laundry concept from the store colors and logo to the name of the business. Lily Laundromat is located in the Mission District of San Francisco. The area serves both a young renter and low income population that is typically in need of laundromat services. The balance benefits both Li and the community. Li purchased Dexter Express washing machines from Western State Design to provide customers with faster service. The benefits are twofold: the Dexter Express machines use less energy, which helps the business's bottom line. It also makes the wash and dry process faster, helping customers get on with the rest of their day faster.
One of the most satisfying aspects of running the laundry, Neo says, is "the joy of interacting with our customers." Maintaining a presence in their coin operated laundry to keep things clean and orderly, Neo and Li get to know their customers and learn about their lives. The laundry also offers free Wi-Fi to customers so that they can make most of their time waiting for their laundry to finish.
The tagline for Lily Laundromat is "Get In, Get out and Get On with Your Life." With Dexter Express washing machines running only 24 minutes per cycle compared to the traditional 32, Lily Laundromat offers convenience and high quality service to their customers. Lily Laundromat opened in early 2013 and aims to attract more customers with their fair pricing and faster Dexter express machines.
With 37 years experience as a premier, full-service distributor to the coin-op laundry industry, Western State Design has grown to become one of the largest coin laundry equipment distributors in the world. Western State Design is proud to be a Dexter Authorized Distributor, and has been recognized as No. 1 Dexter Distributor Worldwide in 2009, 2010, 2011 and 2012. Dexter Laundry located in Fairfield, Iowa, is an employee owned leading manufacturer of commercial laundry equipment. All equipment is manufactured in Iowa. Visit WSD online at http://www.westernstatedesign.com or call toll free at 1-800-633-7153.