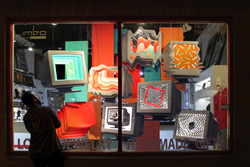 Laser Cat embodies everything we love about Austin – a sense of humor, counter culture fandom, a vintage vibe and unique street style – it was a no-brainer. This is our artistic tribute to our artistic city.
Austin, Texas (PRWEB) July 16, 2015
Austin-based jewelry designer and lifestyle boutique Limbo Jewelry announced today the unveiling date of Aug. 1, 2015, for its new, interactive, storefront window display that will feature the downtown skyline with a larger-than-life cat shooting laser beams into the Live Music Capital of the World.
This quirky retail window is another collaboration between the husband and wife team of Limbo Jewelry, Anne Rutt-Enriquez and Edson Enriquez, and two of Detroit's most sought after young artists, Ellen Rutt and Patrick Ethen.
The back-story behind the eye-catching storefront display is as unique as the vision itself because Anne and Ellen are not only fellow entrepreneurs, but also sisters.
This like-minded duo started designing and installing thought-provoking and bold storefront windows for Limbo Jewelry in 2014. The synergy between the sisters and their shared creative process has not only elevated the shopping experience at Limbo Jewelry, but their intriguing windows have become a staple for the passersby on South Congress Ave., a shopping district known for its eclectic and "live local" vibe.
"We always loved creating window displays, but one day Ellen and I were like, 'let's take it to the next level!' We're a retail shop on South Congress, one of the most popular and well-walked streets in Austin!" explains Anne Rutt-Enriquez. "We've done everything from spray painting television sets to hoisting up a flying bicycle to buying every tiny red silk rose in the city to make our Valentine's Day display."
Since then Anne, Edson, Ellen and Patrick have been experimenting with clever ideas and thanks to trial and error, they've figured out how to make just about anything work. Anne recalls, "For one window, we hung more than 15 huge pendant lights and shorted out the electrical circuits in the store all day long trying to get it right."
During South By Southwest (SXSW) in March 2015, Limbo Jewelry dazed and confused shoppers and SoCo visitors with a vivid '90s-inspired window display featuring computer screens with multiple layers of optically complex patterns. The end result was a hypnotic high as well as a nod to technology in the odd way it blurs reality. In addition, the awe-inspiring display brought in a lot of curious shoppers.
The new storefront window is especially exiting for Limbo Jewelry, because it's a celebration of their favorite frisky feline, "Laser Cat." Laser Cat, a cat face with neon green lasers shooting from his eyes, is the best-selling design for their line of embroidered up-cycled Western shirts under the brand name Triple Z Threadz. Limbo Jewelry collections and Triple Z Threadz are both housed in the Limbo Jewelry store along with unique boutique items from local artisans and eco-friendly brands.
According to Anne, choosing Laser Cat for their interactive "Godzilla-esque" window with LED lighting and moving pieces, was an easy decision. "Laser Cat embodies everything we love about Austin – a sense of humor, counter culture fandom, a vintage vibe and unique street style – it was a no-brainer. This is our artistic tribute to our artistic city."
The media is invited to attend the window unveiling party sponsored by Tito's Handmade Vodka on Aug. 1, 2015 from 6 p.m. - 9 p.m. at the Limbo Jewelry showroom located at 1604 South Congress Ave. The unveiling is scheduled for 8 p.m. If you'd like to reserve your spot, please RSVP on Eventbrite.
About Limbo Jewelry
Limbo Jewelry is an Austin-based lifestyle boutique that sells handcrafted, locally sourced, modern jewelry inspired by art and architecture. Featuring delicate and organic shapes, the Limbo Jewelry line has grown from an unassuming pop-up shop on South Congress one of the most recognized storefronts in Austin's thriving SoCo fashion district. Limbo's aesthetic is modern and stylish featuring clean lines. It is also emerging in the "slow fashion movement" world as a sustainable brand to watch. In March 2015, Limbo Jewelry was featured on Jimmy Kimmel Live during his South by Southwest trip to Austin.
About Triple Z Threadz
During the Limbo Jewelry journey, Anne and Edson had a unique opportunity to add another brand to their portfolio, Triple Z Threadz. Armed with a sick sense of humor and an embroidery machine, Anne and Edson are sharing their love of "fine embroidered crap" on up-cycled vintage Western shirts. Laser Cat, Sasquatch, Gorilla Vs Shark, Posada and Amateur Taxidermy have a fan base of celebrities, musicians and comedians like Quentin Tarantino, Patton Oswalt, Ben Harper, Michael Madsen, and Tre Cool, the drummer for Green Day.