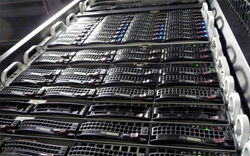 DALLAS (PRWEB) December 04, 2019
Limestone Networks is extending its premium hosting network to the New York metro with the addition of its new JFK1 data center, housed in Equinix's NY7 facility. The JFK1 data center expands the company's bare-metal cloud hosting footprint beyond its established hubs in Dallas, Texas, Los Angeles, California and Salt Lake City, Utah.
At their world-class JFK1 facility, Limestone offers an array of immediately available bare-metal configurations, featuring the latest AMD EPYC 7002, Intel E-2200 processors and unmetered gigabit bandwidth options. "It is an exciting time here at Limestone Networks, in a short twelve months time we now have four premium data centers. Within that same time we have tripled our network capacity which now totals over 160gbps" said Preston Gosdin, COO, of Limestone Networks. "With our customer base constantly growing outside the U.S. we have strategically built our latest data center with low latency in mind. "
Customers utilizing Limestone's JFK1 data center enjoy advanced network features. A key feature is standard access to Limestone's private network mesh of its Dallas, Los Angeles, New York and Salt Lake City regions. This mesh over Limestone's private networking backbone enables seamless interconnection among bare-metal, cloud, and colocated services at any of Limestone's facilities. Limestone also offers 1Tbps+ of DDoS mitigation capacity, shielding servers against the largest network attacks on the Internet.
Technical specs of the Equinix NY7 facility housing Limestone's JFK1 data center features N+1 power, cooling redundancy, and ISO 2700, SAE16 SOC-1 Type II, and SOC-2 Type II certifications. All JFK1 servers are backed by the same 99.9% uptime guarantee offered at Limestone's Dallas, Los Angeles and Salt Lake City locations.
For a limited time, Limestone is offering its E-2234 configuration for only $136.50/month -- the best value in the New York hosting market. The E-2234 configuration includes 512GB NVMe storage.
"With the demand for bare-metal servers with faster processors, higher core count, and high speed storage like NVMe, the decision to launch our New York data center with the just-released Intel E-2200 series and AMD EPYC 7002 Rome processors allow for unparalleled performance at an amazing price point." said Christopher Hill, Operations Manager.
Limestone Networks is the leading provider of on-demand cloud, bare-metal, and colocation solutions. Its American-based support team is available 24/7/365, and all services include multi-layered physical security, triple redundancy, and premium bandwidth carriers. Limestone prides itself in combining quality, state-of-the-art hardware with its industry leading support. Limestone also offers a generous reseller program and a fully-automated client management portal.
For more information about the JFK1 data center, please contact Limestone Networks via live chat or email sales@limestonenetworks.com