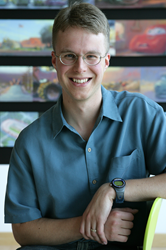 Tom Sanocki, founder of Limitless Ltd. "We have assembled a team from high-end film and game companies who are dedicated to creating VR characters that are just as much a part of our world as we are a part of theirs."
Seattle, Wa (PRWEB) March 03, 2016
Limitless Ltd, a new VR startup created by Pixar and Bungie alum Tom Sanocki, supplies VR content producers with the technologies to achieve the creation of real-life VR characters better, easier, faster and cheaper. The company's patent-pending Limitless Creative VR Environment solves the complex problem of building and integrating characters into VR content that reflect real-life by responding to voice recognition, gestures, gaze and other rich cause/effect input. The technology is being targeted to film and game developers initially, as well as other vertical markets including education, advertising and travel.
Sanocki is uniquely qualified to run a team of ex-Pixar/ex-Bungie pioneers who are creating a higher standard for VR character technology. During his 11 years at Pixar, Tom filed 4 patents, led character teams, and was the lead character creator of characters such as Kevin the Bird in "Up", and the award-winning Mater in "Cars". He most recently spent 4 years at Bungie building real-time characters into the popular game "Destiny".
"Engaging with characters changes the emotional aspect of a story and increases viewer immersion- whether it's a film, a game, a promotional video or an advertisement," said Tom Sanocki, founder of Limitless Ltd. "We have assembled a team from high-end film and game companies who are dedicated to creating characters that are just as much a part of our world as we are a part of theirs."
Limitless' first customer is Motional, LLC. Motional founder Mark Walsh spent 18 years at Pixar, supervising character animation on "Finding Nemo" and "Ratatouille", and crafting Dory in "Finding Nemo", plus writing and directing the Pixar short film "Partysaurus Rex". Together, Motional and Limitless created an interactive animated short film in VR called "Gary the Gull," which will debut at the 2016 Game Developers Conference in San Francisco next week, March 14-18, 2016.
"With Limitless, my team can focus on telling a great story, while Limitless handles the complicated technical process of creating and integrating VR characters that draw the viewer in and create an emotional connection that has not yet been achieved in VR until now. Tom and his team at Limitless are blazing trails and setting a high standard for character VR quality, just as VR content is starting to become more popular."
Sanocki added, "It's our hope that by the time VR hits the mainstream, much of the content available will feature believable characters created with the Limitless Creative VR Environment."
The Limitless Creative VR Environment Includes:

Limitless Real- Life Code for VR Characters:
o The Limitless real-life code provides VR developers and storytellers a real-life emotion engine that creates an emotional connection through interactivity. It does this by mastering the technology that allows VR characters to respond to voice, gestures, gaze and other cause/effect rich input.
Limitless VR Character Integration:
o Integration normally takes programmers days, if not months, to integrate VR characters into VR Worlds. Limitless Character Integration solves this integration problem, among others, by:
Integrating VR into characters;
Providing the integration code to integrate VR characters into VR worlds and stories;
Integrating VR character technologies, such as AI, shading, rendering, motion capture, etc., into VR characters.
The patent-pending Limitless Creative VR Environment is available now for early alpha testing with select partners. For more information, contact partners@vrlimitlessltd.com.
See Limitless and "Gary the Gull" at the GDC VR Lounge, located in the 3rd floor lobby of Moscone West, March 14-18, 2016. Private demos are also available. To schedule an appointment contact karen.blondell(at)gmail(dot)com or Susan(at)SusanLustyComm(dot)com.
About Limitless Ltd
Founded in Spring 2015 and headquartered in Seattle, WA, Limitless Ltd is the creator of the patent-pending Limitless Creative VR Environment, speeding the way for film and game makers to realize the true promise of real-life characters in VR. Information about the Limitless Creative VR Environment can be found at http://www.vrlimitlessltd.com.
About Motional
Based in Los Angeles, Motional is a production studio run by creatives with over 25 years experience producing some of the most successful animated films and games of all time. Motional provides creative consulting on all types of media and believe interactive characters are the future of virtual and augmented reality entertainment. For more information visit http://www.motionalentertainment.com.
Media Contacts:
Susan Lusty
415-269-0226
susan(at)susanlustycomm(dot)com
Karen Blondell
424-263-7371
karen.blondell(at)gmail(dot)com