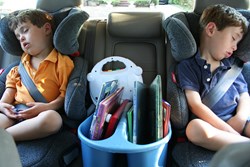 Westport, CT (PRWEB) October 31, 2013
Limousines Of Connecticut is opening the reservation doors for this holiday season. Regardless of the economy, private rental limousine services in CT and the surrounding states are being called upon. The holidays come synonymous with family, kids and travel. It isn't just to the airport, but it can be from your home to a family members house or to a special holiday corporate event. It is just one of the many reasons why more people are reserving limo services for the holiday craze. However, with children aboard, it is imperative to have them placed securely in the private car service of choice.
Limousines Of Connecticut is the leading limo service provider in the Fairfield County, and when the holidays move in, limousines are no longer just those fancy vehicles for proms and weddings. Limousine services become the vehicles where families and loved ones become passengers and use to and from church ceremonies or to celebrate holiday festivities.
The limousine company in Connecticut caters to customers who want to ride in style to parties, the airport, cruise ship terminals and special holiday occasions. However, when children are involved both parents and limousine services must be fully prepped. Each limo, no matter how luxurious, must provide car seats for their traveling youngsters.
Here is a list of questions you should ask:
1. Do you offer car seats? Even in the luxury limos?
2. What sizes are provided?
3. How much does it cost or what is the extra fee?
4. How many can there be?
5. Can I bring my own car seat(s)?
Even though a grand entrance would be desired, the limousine company offers all the safety amenities and requirements for traveling with children, including automatic child safety locks and multi-purpose seat belts. Yet, even with child safety, luxury and holiday enjoyment doesn't have to go unrecognized. Limousines Of Connecticut offers luxury limousines, which feature iPhone/iPod hookups, a surround sound system, DVD players and multiple TV screens. This is ideal for those who want to watch movies as they travel to their destinations, and is perfect for amusing the children as well. Airport service can be a luxury when traveling with children. Kids need their parent's attention, and choosing a reliable airport car service to travel with allows for both, attentiveness to the children, and ease for travelers with kids during the holiday season.
Limousines Of Connecticut serves passengers not only in Connecticut for the holiday season, but also in the surrounding states as well. With a plethora of trustworthy affiliates to accommodate traveling, limousine in Connecticut offer a large fleet of unconventional limos for customers who are looking for a different experience, as well as safety regulations to accommodate the children on board. Speaking to a trustworthy representative at (203) 344-0066 can help answer your questions about your child's safety.