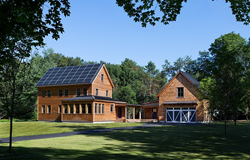 Lincoln, MA (PRWEB) October 19, 2016
The 2016 PRISM Awards honored ZeroEnergy Design and Thoughtforms with two awards: 'Best Net Zero/Passive House' and 'Best Energy Efficient Project' for the Lincoln Farmhouse. Hosted by the Builders and Remodelers Association of Greater Boston, the PRISM Awards seek excellence in building, design, and industry related categories.
The Lincoln Farmhouse, a collaboration between Thoughtforms & ZeroEnergy Design, demonstrates that families who desire a green home do not need to compromise on style, space or comfort. With more than a year of measured occupancy to date, the home unquestionably provides exceptional energy performance, healthy indoor air quality, water efficiency, thermal comfort, and long term resilience, all within a welcoming, New England aesthetic.
The all-electric home consumes 70% less energy than a code-built house, with measured energy data proving it produces 48% more energy annually than it consumes, making it a 'net positive' home. Thick walls and roofs lack thermal bridging, the continuous air barrier yields minimal leakage, while high performance, triple-glazed windows round out the super-insulated building envelope.
An air source heat pump and an energy recovery ventilator ensure that the house stays warm in the winter, cool in the summer, and provide a constant supply of fresh, clean air throughout the year. A heat pump hot water heater, Energy Star appliances, induction cooking complete the high-efficiency package. A 13.8kW array of solar panels produces more than enough energy each year to offset consumption. A circuit-by-circuit energy monitoring system allows the owners to track their energy consumption and production.
The home's impressive net positive energy performance is not only a sustainable addition to a taxed environment, but also offers shelter from future heating & cooling costs, superior thermal comfort, and yields enough energy to support a future electric car for the family.
"This home shows what can be done when the team is established early in the process – a beautiful, healthy and incredibly efficient custom home with no cost or schedule penalties. Having the architect, engineer and builder working closely together toward the same objective set the stage for success", said Mark Doughty, President of Thoughtforms.
"The project is a successful example of a traditional farmhouse aesthetic, paired seamlessly with high-performance design, details and execution. It is a result of an ideal collaboration between the owner, architect, and builder," said Stephanie Horowitz AIA, Managing Director of ZeroEnergy Design.
About the Architect:
ZeroEnergy Design provides full service modern green architecture and mechanical design. The firm designs green homes and buildings pursuing exceptional energy performance. The unique collaboration in-house between architecture, mechanical design, and financial analysis drives a competitive advantage and enables the firm to deliver fully integrated design services.
http://www.ZeroEnergy.com
About the Builder:
Thoughtforms is the premier builder in eastern Massachusetts. Since its start in 1972, the firm has established its reputation throughout the region by building some of the finest homes in all architectural styles. Clients trust Thoughtforms to deliver custom quality in a transparent and informative way and to be a partner for the long-term. The quality clients expect extends far beyond the level-of-finish and what can be seen in the here-and-now and includes the health and comfort of the indoor environment, energy use, durability, and technology among other elements.
http://www.Thoughtforms-Corp.com
About BRAGB:
The Builders and Remodelers Association of Greater Boston (BRAGB) has represented the industry since 1944 as one of the leading trade associations in New England. Affiliated with the National Association of Home Builders (NAHB) and the Home Builders and Remodelers Association of Massachusetts (HBRAMA), BRAGB promotes professionalism and high ethical standards for the industry, influences public policy and encourages civic and environmental responsibility within the building industry.
http://www.bragb.org