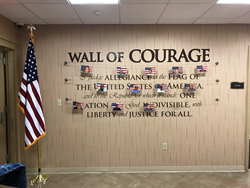 "We believe our veterans, who have demonstrated courage and sacrifice to our country deserve to be honored," said Gretchen Aichele
Cincinnati, OH (PRWEB) January 19, 2017
The Mayor of the City of Cincinnati, John Cranley, proclaimed January 18, 2017 to be designated as "Courage Day" and presented to Lincoln Crawford Care Center because of the outstanding care and respect given to their aging veterans. Lincoln Crawford has provided care to veterans from all branches of the Armed Forces dating back to World War II. Lincoln Crawford recently unveiled their "Wall of Courage" and their "Courage Medal of Honor."
"We believe our veterans, who have demonstrated courage and sacrifice to our country deserve to be honored," said Gretchen Aichele, Administrator at Lincoln Crawford. "Our Wall of Courage features photos of our veterans and allows us to show our gratitude for their service."
Aichele went on to say that aging with dignity requires that same courage that they know so well. "It's not easy to accept that they have provided help to many, and now it is time for them to receive help from others." Photos of the veterans are prominently displayed over the Pledge of Allegiance, showing their commitment to those who have served, as well as to the freedom they courageously fought to secure.
Lincoln Crawford has proudly served the Greater Cincinnati area for more than 100 years and has seen veterans of all ages, branches and ranks come through their doors. The idea for the Wall of Courage came when Aichele determined it was time to give back and show admiration for these men and women who reside either temporarily or permanently in their facility. "We see a lot of courageous, elderly people who are faced with battling both temporary and permanent changes in their life style and health," Aichele said.
Lincoln Crawford Care Center is located in North Walnut Hills, a community within the City of Cincinnati. They provide short term rehabilitation as well as long term care. Their state-of-the-art rehab division is one of the leading facilities for those recovering from stroke, heart attack or traumatic injury. They are fully staffed with physical, occupational, and speech therapists.
The "Wall of Courage" is located in the main entrance hall for every visitor, resident and guest to view. "We are pleased to be able to honor them and the Proclamation from the City of Cincinnati takes this honor one step further," Aichele said.
For more information about Lincoln Crawford Care Center, contact:
Gretchen Aichele, Administrator
1346 Lincoln Avenue
Cincinnati, OH 45206
513-861-2044
http://www.lincolncrawford.com