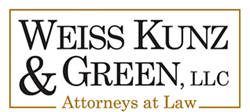 Lincolnwood Divorce Lawyer Maxine Weiss Kunz Named 2015 Top 10 Under 40 Family Law Attorney, Lawyer Amanda M. Oliver joins firm
Lincolnwood, IL (PRWEB) September 28, 2015
The Lincolnwood law firm of Weiss Kunz & Green, LLC is pleased to announce that Founding Partner Maxine Weiss Kunz has been named a 2015 "Top 10 Under 40 Family Law Attorney" for the state of Illinois by the National Academy of Family Law Attorneys (NAFLA).
NAFLA employs a comprehensive selection process to determine the top family law attorneys in each state. Selected attorneys must be nominated by a licensed practicing attorney and meet the minimum requirements for membership. The NAFLA processing committee then selects a portion of the nominated attorneys to advance to the final selection stage, in which the NAFLA Board of Governors formally determines the top family law attorneys in each state.
Lincolnwood divorce lawyer Maxine Weiss Kunz is one of the Founding Partners and Principals at Weiss Kunz & Green, LLC. She graduated with her Juris Doctorate from Chicago-Kent College of Law and earned her B.A. from Indiana University. She dedicates her legal practice to family law matters including: divorce, adoption, premarital and postnuptial agreements, parentage and paternity, dissolution of same sex marriages, guardianships, child representation, collaborative law, mediation, and appeals. She is a certified Guardian ad Litem and Child Representative for the Cook County court system and is also a certified mediator and collaborative lawyer within the state of Illinois.
Kunz maintains a 10.0 "superb" rating on Avvo.com based on exceptional peer endorsements and client reviews, and she received a "2014 Avvo Client's Choice Award" in the area of family law. She has been named an Illinois Super Lawyers Rising Star in both 2011 and 2013. Only 2.5 percent of attorneys in Illinois under the age of 40 or in practice for less than 10 years are recognized as Rising Stars each year.
Weiss Kunz is a member of the Illinois State Bar Association, in which she serves as a Council Member of the Young Lawyer Division and Liaison for the Health Care Section Council. She is also an active member of the Illinois State Bar Association and the DuPage County Bar Association. Recently, Maxine studied for 10-days at the ABA-approved National Institute of Trial Advocacy's workshop in Boulder, Colorado, receiving complex training in custody and financial matters.
Weiss Kunz & Green, LLC is also pleased to announce that Attorney Amanda M. Oliver has joined the firm as a partner. Oliver obtained her Juris Doctorate from The John Marshall Law School and obtained her B.A. from Millikin University. She was named an Illinois Super Lawyer from 2012-2013. In 2013, Chicago Magazine named Oliver a "Top Attorney" in its "Top Women Attorneys" issue. Oliver is an active member of the Illinois State Bar Association, Chicago Bar Association, and the Lake County Bar Association. Oliver will be opening the Beverly (Chicago) office of Weiss Kunz & Green.
Founding Member Justin M. Green says of Oliver, "She is a valued addition to the firm with her background in litigation and settlement of family law cases." Green was recently appointed to one of the Illinois State Bar Association's councils' which serves as a resource for young lawyer's practicing in Illinois (Young Lawyers Division).
About Weiss Kunz & Green, LLC:
The law firm of Weiss Kunz & Green, LLC represents clients throughout northern Illinois from convenient office locations in Lincolnwood, Chicago and Lisle. The experienced family law attorneys provide knowledgeable counsel in the practice areas of: divorce, child custody, child support, spousal support, prenuptial and postnuptial agreements, adoption appeals and litigation.
With a high level of mediation and collaborative law experience, the attorneys at Weiss Kunz & Green, LLC can provide clients with alternatives to litigation that may resolve family law conflicts in a less-stressful and more cost-efficient manner. Contact Weiss Kunz & Green, LLC today at (847) 329-7171 (Lincolnwood); (312) 605-4041 (Chicago); and (630) 225-7030 (Lisle) or fill out the online contact form.