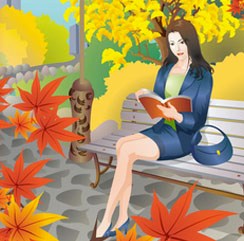 Booklover's Bench features national award-winning authors ...giving readers a variety of excellent books to read.
Lindsborg, KS (PRWEB) July 31, 2013
Butterfield Books Inc.'s author Linda Hubalek has joined the Booklover's Bench, a website devoted to bringing good things to readers.
The site features national award-winning authors with a range of book genre, giving readers a variety of excellent books to read. Each month the website also hosts contests with different ways to win books from the site's eight authors.
Kansan Linda K. Hubalek writes historical fiction series about the pioneer women that settled in Kansas during the 1800s. Her ten books are based on her ancestor's history and the prairie they homesteaded.
Seven other authors are featured on the Booklover's Bench website.
Terry Ambrose started out skip tracing and collecting money from deadbeats. A resident of Southern California, his years of chasing criminals give him stories for the mystery and suspense books he now writes.
Nancy J. Cohen is an award-winning author who writes humorous mysteries and paranormal/sci-fi/fantasy romance. Several of these Florida author's titles have made the IMBA bestseller list.
Karla Darcy, #1 Amazon Regency Bestselling Author writes traditional Regency romance books from her Florida homebase.
Terry Odell is a Colorado author of more than ten romantic suspense and mystery novels, as well as numerous romance short stories.
Joanna Campbell Slan, from Florida, writes cross-genre books. Her Kiki series is a "medium-boiled mystery with a touch of crafts" and the Jane Eyre series is "historical romance and mystery."
Maggie Toussaint, from Georgia, writes romantic suspense books and mystery series set in the Deep South.
Floridian Carol White is a novelist and an award-winning playwright who writes contemporary fiction, and short stories which include romance, sci-fi and mystery.
Hubalek's historical fiction books (also in eBook form) are available in stores, or online at Amazon.com, BN.com, or ButterfieldBooks.com. Please go to the Booklover's Bench website for information and listing of all the author's books.
About Butterfield Books Inc.:
Founded in 1994, Butterfield Books Inc. publishes and promotes books about Kansas and its pioneer history. The company is located in Lindsborg, Kansas, known as "Little Sweden USA."
About Linda K. Hubalek:
Author Linda K. Hubalek writes books about the pioneer women who made Kansas their home. Her books are published by Butterfield Books Inc. and they include the Trail of Thread, the Butter in the Well, and the Planting Dreams series.