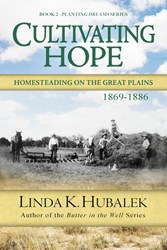 This popular book gives an excellent glimpse into the pioneers' life...
Lindsborg, Kansas (PRWEB) October 29, 2013
This year Butterfield Books Inc. celebrates the fifteenth anniversary of the book Cultivating Hope, the second book in the Planting Dreams series by Kansas author Linda K. Hubalek.
Cultivating Hope, by Linda Hubalek, combines the emotional stories and photos of Hubalek's paternal Swedish ancestors with the history of the Smoky Valley region of Kansas. This popular book has been kept in print for fifteen years, and recently updated because it gives an excellent glimpse into the pioneers' life when they homesteaded Kansas after the Civil War.
While researching and writing Cultivating Hope, Hubalek imagined how her ancestors coped with building a new homestead in the middle of the treeless grassland. Years of hard work to develop the land improves the quality of their lives—but sometimes not without a price. Her great grandparents lost four children to illness in a short period of time.
"Think of sweating to plow the sod, plant the seed, and cultivate the crop— only to lose it all by a hailstorm right before you harvested it. Then what did they do? They had to figure out how to survive and feed their family until the next crop was available," said Linda K. Hubalek.
The historical fiction book shows how the pioneers used the opportunity to immigrate to a new country to build new lives for their families. It's a good story for people researching their family history to understand what life was like for their ancestors. Cultivating Hope is used by teachers to portray life on the prairie to their students, and in book clubs to study the woman's role in the 1800's family unit.
"Cultivating Hope gives a very intimate view of the pioneer's role in America's history," said Hubalek. "My book shows how innovating the Swedish immigrants were to survive, and thrive, with very limited or crude supplies on hand."
For more information about homesteading life on the prairie, please be sure to read Linda K. Hubalek's historical pioneer books, Cultivating Hope, Planting Dreams, and Harvesting Faith. These books (also in ebook form) are available in stores, or online at Amazon.com, BN.com, or ButterfieldBooks.com.
About Butterfield Books Inc.:
Founded in 1994, Butterfield Books Inc. publishes and promotes books about Kansas and its pioneer history. The company is located in Lindsborg, Kansas, known as "Little Sweden USA."
About Linda K. Hubalek:
Author Linda K. Hubalek writes books about the pioneer women who made Kansas their home. Her books are published by Butterfield Books Inc. and they include the Trail of Thread, the Butter in the Well, and the Planting Dreams series.