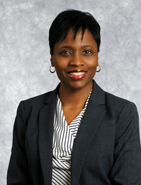 Cleveland, Ohio (PRWEB) June 04, 2014
In CHAMPS Patient Experience's most recent blog post, Linda Galindo - Inspiring Personal Accountability, Toya Gorley shares her thoughts on the topic.
"I am so inspired by Linda Galindo and her work to promote personal accountability. It has made a tremendous difference for me personally and professionally," explains Gorley.
Typically, we think of accountability in terms of holding others accountable. Linda Galindo encourages everyone to look inward and strive to be more personally accountable so we may have more control over our actions and success. She teaches that personal accountability requires a shift in mindset, language and behaviors. For example…

Shift in Mindset: Acknowledge that you contribute 100% to any situation. Take ownership of outcomes, whether good or bad.
Shift in Language: Use phrases like, "What can I do to help?" Instead of, "That's not my job."
Shift in Behaviors: Avoid gossip, admit when you make mistakes and speak up when something contradicts your organization's mission and values.
The work Linda Galindo has done to promote personal accountability can be easily applied to the patient experience. In the healthcare setting, employees have to own personal accountability by understanding they can impact the delivery of exceptional care and service, no matter what their job is. It requires an everyday commitment to the patient experience.
Gorley closes her blog by letting readers know she will speaking on this topic at RL Palooza this week along with Carol Santalucia.
To learn more about the CHAMPS Patient Experience blog, PX Perspective, visit http://www.pxperspective.com.
###
In partnership with Santalucia Group, CHAMPS Patient Experience offers a variety of services to enhance the patient experience. Led by Carol Santalucia, a recognized leader in patient experience with more than 30 years of expertise, CHAMPS offers outcomes-based services designed to create an optimal patient experience. We believe providing an optimal patient experience not only makes sense intuitively but also leads to improved healthcare outcomes, increased patient loyalty and an enhanced financial position for our clients. To learn more about us and our services, visit http://www.champspatientexperience.com.