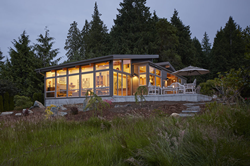 People who want to build a new home on their land can save on the expense of hiring an architect to design a custom home with our design fee rebate offer.
SEATTLE (PRWEB) May 02, 2019
It's not uncommon for a client to pay up to 20% of the total cost of a new custom home on an architect's design fees. Lindal Cedar Homes aims to remove that price barrier for clients wishing to build a custom home. Lindal has a long-standing policy of not profiting from design fees. The family-owned company believes that clients looking to build a beautiful home, thoughtfully designed for their budget, site, and lifestyle, should have enough left over to actually build their home once the design and drafting is complete! That's why Lindal offers a spring promotion which refunds design fees when a client takes delivery of their new Lindal home materials package.
The world's largest supplier of custom post-and-beam home kits helps make it easier for people who want to build a home on their land to get started by visualizing the final home design and receiving pricing estimates up front. The design fee rebate is available to new customers who place an order by August 31. Restrictions may apply.
Lindal has a selection of hundreds of floor plans in every home style imaginable. There is a great deal of flexibility when it comes to the size, layout, and overall aesthetic of a Lindal home. Although the word cedar is in the brand name, clients have a range of choices when it comes to selecting the exterior siding of their homes as well as the interior finishes. In addition to cedar, modern material choices include stone, fire-resistant cement composite board siding, and even charred wood shou sugi ban planks for a striking look. It's also common to mix and match various sidings to achieve pleasing contrasts in color and texture.
Christina Lindal, executive vice president of the Company, believes that good home design should be affordable and accessible. "People who want to build a new home on their land can save on the expense of hiring an architect to design a custom home with our design fee rebate offer," she said.
People who are interested in taking advantage of the design fee rebate promotion should contact a local independent Lindal representative for more details and to get pricing estimates for building a custom home in their region.
About Lindal Cedar Homes
Lindal Cedar Homes is the world's largest manufacturer of prefabricated post-and-beam homes, made of premium Western red cedar and other high-grade building materials. The company specializes in designing custom homes for clients, built with an efficient and predictable kit of parts that can be shipped to build sites anywhere in the world.
Founded by Sir Walter Lindal in 1945 (and family owned and operated to this day), Lindal Cedar Homes is a leader in home design, engineering, quality materials and customer service. The Lindal tradition is carried out around the world by hundreds of employees, contractors and independent distributors in the United States, Canada, Japan, Europe, Australia and other countries. All Lindal Cedar Homes built are backed by an industry-exclusive Lifetime Structural Warranty.
More information about the Company can be found on their website.