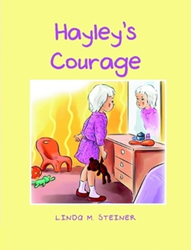 MESA, Ariz. (PRWEB) April 06, 2015
Linda M. Steiner's children's book, "Hayley's Courage" (published by Lulu), will be featured at the upcoming 2015 Book Expo America show in New York from May 27-29. Written originally for Steiner's daughter, "Hayley's Courage" will be showcased among many other prominent books and be viewed by patrons, authors, agents and publishers from around the world.
Within "Hayley's Courage," readers are introduced to Hayley – a little girl who was born with a large birthmark on her face. At the start of the story, a boy at school named Cole bullies Hayley. After the two begin to talk, Hayley teaches Cole to accept others and understand why she is different. Hayley's parents also play a supportive role in nurturing Hayley's sense of pride in her own individuality.
"'Hayley's Courage' teaches children the respect and morals we should extend to all individuals," Steiner says. "The story encourages the goodness of the human spirit and conveys an important message to all children who feel different or challenged. It will be a valuable resource for parents, therapists and educators."
Steiner hopes her book will also teach children to cease bullying in school and give children who may appear different to their peers a boosted sense of self-esteem.
"Hayley's Courage"
By Linda M. Steiner
Softcover | 8.5 x 11 in | 38 pages | ISBN 9781483415352
E-Book | 38 pages | ISBN 9781483415369
About the Author
Linda M. Steiner was a Writer's Digest honorable mention winner in children's nonfiction for "Hayley's Courage." She is a kindergarten and reading teacher with a master's degree in education. She wrote "Hayley's Courage" in honor of her daughter and for all children who feel different. Steiner lives in Arizona with her family.
Lulu empowers people of all ages to explore and express their interests, passions and expertise through books, photography and art. Since introducing self-publishing in 2002, Lulu has empowered creators in more than 225 countries and territories to produce nearly two million publications. Lulu Jr. allows children to become published authors, encouraging creativity, strengthening literacy and building self-esteem. Picture.com offers professional photography of collegiate and professional sports, memorable and historic events, fine art and home décor. For more information, please visit http://www.lulu.com.