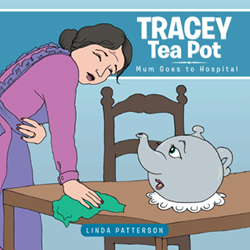 Hernebay, England (PRWEB) January 05, 2015
In the book from author Linda Patterson, "Tracey Tea Pot: Mum Goes to Hospital" (published by AuthorHouse UK), Tracey Tea Pot helps protect the Patterson children from their mean-spirited aunt.
Tracey Tea Pot lives on Patterson farm near Parsnip Wood. She has a warm nature and loves to listen to her family's tales and going-ons. She is proud of her place in the kitchen on top of the stove, which offers her a great vantage point for watching over the Pattersons.
Tracey Tea Pot is worried about Mum. She looks tired and worn out and just doesn't seem to be herself. When Dad finally calls for help, the doctor sends Mum to the hospital and Dad calls the children's aunt and uncle to look after them.
Aunt Sylvia isn't very nice, and she's lazy too. Instead of watching over the children and helping them the way Mum usually does, Aunt Sylvia barks orders at her husband and the children. The children soon learn to look after themselves, for fear of awakening the wrath of their aunt. Tracey Tea Pot finally has enough and decides to play some tricks on Aunt Sylvia since she has been so nasty to the family Tracey Tea Pot loves so dearly.
"Tracey Tea Pot"
By Linda Patterson
Softcover | 8.5 x 8.5 in | 30 pages | ISBN 9781496994653
E-Book | 30 pages | ISBN 9781496994660
Available at Amazon and Barnes & Noble
About the Author
Linda Patterson lives and writes in Hernebay, England. She has written 16 stories of Tracey Tea Pot, basing all the characters off members of her family, including the family dog.
AuthorHouse UK Ltd., an Author Solutions, LLC self-publishing imprint, is a leading provider of self-publishing, marketing, and bookselling services dedicated to serving authors throughout the United Kingdom. AuthorHouse UK is committed to providing authors the best self-publishing experience through a wide array of products and services designed to help individual authors realise their unique creative vision. AuthorHouse UK assigns each author a personal publishing, marketing, and book consultant to provide professional guidance throughout the self-publishing process. To date, AuthorHouse UK has released more than 6,500 titles. For more information or to begin publishing a book today, visit authorhouse.co.uk or call 0800 1974150 or follow @AuthorHouseUK on Twitter for our latest news and updates