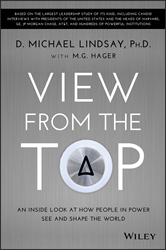 By shedding light on the inner workings of America's elite, this book serves as an inspiration and a guide for anyone who dreams of making it to the top.
Hoboken, NJ (PRWEB) May 15, 2014
What do President Jimmy Carter, former Secretary of State Condoleezza Rice, Kevin Plank (CEO of Under Armour), football analyst (and former head coach) Tony Dungy, golfing legend Jack Nicklaus, "CNN's Doctor" Sanjay Gupta—and 544 others—have in common? The answer: All were interviewed by award-winning sociologist Dr. D. Michael Lindsay as part of the largest-ever leadership study of its kind. The findings and compelling stories from this ten-year project are available in his new book, "A View from the Top: An Inside Look at How People in Power See and Shape the World" (WILEY; May 2014; Hardcover & e-book; $28; ISBN: 978-1-118-90110-6)
"View from the Top" brings readers inside the corridors of power and relates the personal stories and powerful findings from the PLATINUM Study, (Public Leaders in America Today and the Inquiry into their Networks, Upbringings and Motivations) a groundbreaking study of 550 elite American CEOs, senior government leaders, and nonprofit executives based on ten years of research. The study is a socio-scientific analysis through personal interviews, examining how leaders influence their organizations, communities and society as a whole. The 550 leaders who participated include two former presidents of the United States; 80 U.S. cabinet secretaries; dozens of senior White House officials across nine administrations; more than 200 chief executive officers (including the CEOs of 20 percent of the Fortune 100); dozens of celebrated artists, performers and writers; and more than 100 top leaders from the nonprofit sector. The study amassed the largest and most exhaustive set of interview data conducted with leaders from every segment of American society.
"A few elite leaders in business and government make decisions that affect all 300 million Americans," says Dr. Lindsay. "I set out to discover what sets this handful of influential people apart. Through in-depth interviews I learned that power is not a matter of luck or breeding, but follows a set of seven surprising—and surprisingly simple—principles."
The findings of the PLATINUM Study have the potential to change the way people think about leadership. The stereotypical image of the hard-nosed Ivy League boss who's always looking out for "Number One" may ring true somewhere, but it completely fails in the upper echelons of leadership. View From the Top will surprise readers by demonstrating the compassion, hard work, and humanity that unites the most influential Americans.
Dr. Lindsay adds, "Much is made of leadership, but relatively little is known about the lives of those who sit atop the world's most powerful organizational pyramids. Who are they? How did they get there? And what do they do with their power? It was in pursuit of a desire to know how power and leadership really work and can be used for pursuit of the common good that I undertook this research. After spending thousands of hours analyzing the lives and institutions of these 550 leaders, I determined that many of our basic assumptions about power and influence are simply not true. At root, leadership is the exercise of influence in the service of a shared cause. There is not potential state of leadership; it exists only when action is taken. I found that leaders in the matrix of power act personally, but they think institutionally."
By shedding light on the inner workings of America's elite, this book serves as an inspiration and a guide for anyone who dreams of making it to the top. It's easy enough to be an effective leader, but to lead some of the most powerful institutions on Earth requires something special. Ambitious leaders and leaders-to-be will find guidance in firsthand stories and advice. The author allows the gurus to speak for themselves, and then follows up with helpful syntheses of leaders' candid revelations.
The results of the Platinum Study include unexpected truths such as:

Being born into wealth is a poor predictor of leadership success
One exceptional program can set you on the path to leadership
You don't have to attend an Ivy League school
A leader's best work never sees the light of day
Working longer does not mean working better
The book examines the different paths to power and describes the essence of leadership and the fundamental traits that distinguish a leader from the pack. For anyone seeking sharpen their leadership skills and impact the world around them, View from the Top provides the roadmap to taking charge and inspiring change.
About the author
Dr. D. MICHAEL LINDSAY is the president of Gordon College and one of the youngest college presidents in the country. An award-winning sociologist and educator, Dr. Lindsay has lectured on five continents and worked with dozens of organizations to increase their leadership capacities. His Pulitzer-nominated book, Faith in the Halls of Power, was listed in Publisher's Weekly's "Best Books of 2007," and his work has been profiled in hundreds of media outlets worldwide. He and his wife, Rebecca, live with their three daughters on the campus of Gordon College just north of Boston.
###