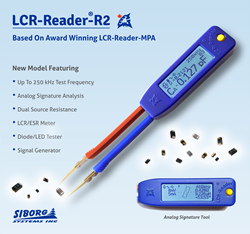 Siborg Systems Inc. is presenting at EPTECH On Demand, Wednesday September 15th, 2021. They will be presenting the LCR-Reader device and the newest LCR-Reader-R2 device with 250 kHz test frequency.
WATERLOO, Ontario (PRWEB) September 15, 2021
This Wednesday, September 15, 2021, Siborg Systems Inc. will be presenting virtually at EPTECH On Demand, showcasing their LCR-Reader line of handheld LCR/ESR meters. They will also debut the new LCR-Reader-R2 with 250 kHz test frequency.
For 30 years EPTECH has been showcasing products and services to the EP&T audience of electronic engineers and designers across the globe. This year is a virtual event where speakers are presenting to online attendees. Siborg will be presenting on Wednesday September 15th, at 3:20 - 3:50 PM EDT.
Siborg's presentation, titled 'Quick and Accurate Characterization of Surface Mount Components and Data Acquisitions Tools', will cover their current selection of test equipment. Siborg will go over the importance of component characterization and how their LCR-Reader line of test devices can maximize efficiency while identifying components in a fast-paced environment, including tools that remotely record measurement values for quality control. The presentation will cover their LCR-Reader line and cover the abilities of each device.
The LCR-Reader line of multimeters requires no set-up between measurements. When the devices' gold-plated tweezer probes are in contact with a component, the LCR-Reader will automatically determine the type of component and best test range; all measurement values are instantly available on the display.
LCR-Reader-R2, based on the award winning LCR-Reader-MPA , will be released soon. Siborg's newest model offers a 250 kHz and Analog Signature Analysis. The R2 offers better stability while testing in-circuit due to the ability to switch test signal source resistance from 100 Ohms to 1.4 kOhms. This higher source resistance reduces noise while measuring small resistances.
The Analog Signature Analysis feature is a circuit board troubleshooting technique that utilizes an AC sine wave across to points of an electronic component or a circuit board. When the sine wave passes across the two points, the resulting waveform on the display can be compared to a known good circuit board to determine the tested board's health.
Some of the main differences between LCR-Reader-R2 and LCR-Reader-MPA is the removal of some of MPA's features for R2, including AC/DC voltage measurements up to 15 V, Frequency meter, AC/DC current measurements and oscilloscope mode.
Features on LCR-Reader-R2:

Automatic and manual LCR, ESR, LED/Diode measurements
0.1% basic accuracy
Automatic and manual test frequency, including 100, 120 Hz, 1, 10, 20, 30, 40, 50, 60, 75, 100 and 250 kHz
Three test signal levels, 0.1, 0.5 and 1.0 Vrms
Easy Open/Short Calibration for Parasitic Offset Removal
Measures to 0201 size (0.3 mm)
1.5 oz. weight
Backlit LCD display
Gold-plated test leads
NIST Traceable calibration certificate
-Measurement ranges: Resistance: 10 mOhm to 20 mOhm, Capacitance: 0.1 pF to 1 F and Inductance: 5 nH to 100 H.
Siborg's LCR-Reader line of multimeters was designed to make easy-to-use, affordable LCR-meters with high accuracy measurements. Each device is uses tweezers as probes and instantly test and produce results within seconds. These include:
LCR-Reader-MPA, the Product of the year 2020 Award winner: 0.1% basic accuracy and features such as 100 kHz test frequency, AC/DC current and voltage measurements, Oscilloscope mode up to 100 kHz transient voltage, LCR/ESR/LED/Diode testing, Super Capacitance testing and more. Bluetooth enabled models are also available.
LCR-Reader: 0.5% basic accuracy, one-button navigation. Each button press changes the selected test mode. This is the most basic model, but also the most affordable.
LCR-Reader Colibri: the same model as LCR-Reader, with the added ability to manually select test frequencies.
Smart LED Test Tweezers with 3 current settings, and can also be used as component tester using the included cable
Smart Tweezers ST-5S, LCR/ESR/Diode meter.
Kelvin Probe Connector Kit turns any LCR-Reader device into a probe station; includes 5 connector heads and extends the reach of the tweezers
Siborg also offers task kits - pre bundled devices and accessories, and various other parts and accessories for SMT testing. All of their products are available through the LCR-Reader online store, and many of the devices are available on Siborg's Amazon sales channels in North America and Europe.
Siborg will be presenting at EPTECH On Demand on Wednesday September 15th, 2021 at 3:20 - 3:50 PM EDT. Attendees are invited to chat and reach out with any questions during and after the presentation.