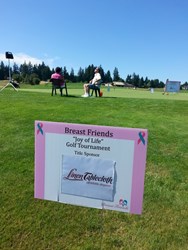 It is a great realization that life can be so short, so it's important to take every opportunity to contribute to a worthy cause that touches us personally. - Ron Berrett, CEO of LinenTablecloth
Portland, Oregon (PRWEB) September 24, 2013
Leading online linen retailer LinenTablecloth, along with other Pacific Northwest-based vendors, helped Breast Friends raise almost $30,000 during the 2nd Joy of Life Golf Tournament last July 26, 2013 at the Stone Creek Golf Club in Oregon City.
Breast Friends is a nonprofit organization dedicated to improving the quality of life for female cancer patients by providing various types of direct patient services including emotional and financial assistance. The group also offers outreach programs to the patients' family and friends and equip them with ways on how to express proactive support.
"We raised just under $30,000 for the total event, which is the second highest tournament we've held (even though our audience was a little smaller than in the last two years). Although our attendance numbers were a bit down, spirits were high," co-founders Becky Olson and Sharon Henifin said in a joint statement. Auctions and raffle draws also highlighted the fund-raising event.
In his speech, LinenTablecloth CEO Ron Berrett explained why the company supported this endeavor and decided to be this season's title sponsor. "All of Breast Friends' services are available to the public at no cost. I really admire the volunteer work that they do. We're all so busy in our lives and rarely do we take time to volunteer and do these kinds of things. It's amazing that we're all here today. It is a great realization that life can be so short, so it's important to take every opportunity to contribute to a worthy cause that touches us personally."
Aside from LinenTablecloth, other notable business organizations who made this event a successful one for Breast Friends were:
Breakfast Sponsor: Bank of the West, Gary's Vacuflo, Stone Creek Golf Course
Lunch Sponsor: Terrie Marshall
Hole in One Sponsor: Beaverton Kia
Cart Sponsor: Kaiser Permanente
Hole Sponsors: Happy Cup LLC, Dixon Golf, American Family Insurance, Budget Blinds of Beaverton, Coffman Excavation, ESP Commercial Property, Exercise Equipment N.W., Gonzales Boring and Tunneling, Gregory A. Williams D.M.D., P.C., Imperial Office Solutions, Plaza Hair Center, SHOC Foundation and The Wig Gallery & Salon
"We want to thank those who supported the event either by volunteering, sponsoring, becoming an auction donor, or as a registered golfer, or team captain. Special thanks goes to our Title Sponsor, LinenTablecloth. We also thank and recognize our incredible golf committee, chaired by Martha Peterson. We thank you so much for your generosity and support throughout the year. We could not do what we do without you. It's people like you, and events like these that make it all possible," Olson and Henifin stressed.
About Breast Friends
Breast Friends is your premiere resource for women and families facing a diagnosis of breast cancer, ovarian cancer, or other women's cancers. http://www.breastfriends.org/
About LinenTablecloth
LinenTablecloth, a brand wholly-owned by Berrett Brothers, Inc., is the leading online retailer of linen tablecloths, chair covers, wedding decor and other related products. The company owns its manufacturing facility outside of Shanghai, China, allowing it to have complete control over product quality and consistency.
Since 2005, LinenTablecloth has been the preferred online linen shopping site of brides, wedding and party planners and event coordinators in the United States and in Canada, due to its hotel and restaurant quality linens that carry super low price tags. In addition, the Oregon-based company is also known for its excellent customer service, fast shipping and its customer-friendly return policy. LinenTablecloth provides pre and post sale telephone support through its toll-free hotline 877-835-5617. Its online store http://www.LinenTablecloth.com offers a large selection of linens for special events such as weddings, corporate functions and other types of celebrations.
About Berrett Brothers, Inc:
With corporate headquarters in Tigard, Oregon, Berrett Brothers, Inc. wholly owns the brand LinenTablecloth and the online shopping site http://www.LinenTablecloth.com.
Forward-looking statements:
This press release may contain certain statements that relate to future events and expectations and are forward-looking statements. Words such as "will be," "will," "would," "expect," "plan," "could," "should" or other similar words or expressions often identify forward-looking statements. All statements other than statements of historical fact are forward-looking statements, including, without limitation, statements regarding our outlook, projections, forecasts or trend descriptions. These statements do not guarantee future performance, and we do not undertake to update our forward-looking statements.
Contact Person:
Kristina Anderson
(877) 835-5617
kristina(at)linentablecloth(dot)com
http://www.LinenTablecloth.com