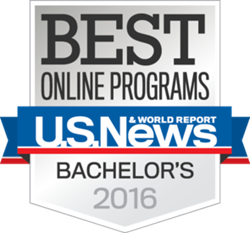 "Our emphasis on personalized education that works with students to meet their goals is reflected in these rankings." - Laura Brener, director of online and continuing education at Linfield
Mcminnville, Oregon (PRWEB) February 09, 2016
For the second year in a row, Linfield College Online and Continuing Education's accredited online college was ranked in the top 100 online bachelor's programs in America. Linfield maintained the 63rd place in the recently released rankings, which were published by U.S. News and World Report. Three years ago, the online undergraduate degree program ranked 136th in the nation.
Linfield received its highest marks for Student Engagement, where it earned a rank of 48, and Student Services and Technologies, where it earned a rank of 54. It is the highest-ranked online college program among private, liberal arts colleges in Oregon. Linfield's Online and Continuing Education program shares its high ranking with Eastern Oregon online, and Linfield is second only to Oregon State University among all Oregon colleges.
"People looking to enhance their career by earning their degree are increasingly recognizing the value of a degree from Linfield College," said Laura Brener, director of online and continuing education at Linfield. "Our emphasis on personalized education that works with students to meet their goals is reflected in these rankings."
Linfield College has been involved in online education since the late 1990s. The relationship it shares with the residential campus strengthens the opportunities for online students.
Students interested in starting this spring are encouraged to apply by February 5, 2016. Please call the Office of Admissions at (503) 883-2346 or visit http://www.linfield.edu/dce for more details. The campus is located at 900 SE Baker St in McMinnville, OR 97128.
Linfield College Online and Continuing Education makes it easy to balance work and personal life with academic obligations. Offering six degree programs, 14 certificate programs and four minors, Linfield's online programs have a higher completion rate than the national average. Each student receives personalized attention through the academic advisor program and has access to a wide range of technological tools. To make higher education accessible to all, Linfield offers flexible financial aid plans.