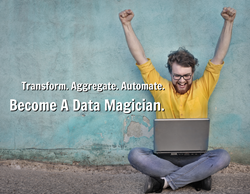 Lingk recipes make converting data for inclusion into our web projects easy and saves our team hours of manual conversion time.
DANVILLE, Calif. (PRWEB) September 12, 2018
Lingk Inc., the leader in democratizing big data processing for everyday use, today announced a new flat file solution designed for data professionals everywhere using spreadsheets for analysis and data exchange.
There are now over 750 million Excel users worldwide, and paired with Lingk, users with basic SQL knowledge can automatically turn files into an in-memory database for lightning fast transformation, aggregation and format conversion on datasets of any size.
Advanced spreadsheet users spend at least 20-30 hours a week working in spreadsheets and over 50% of their time processing large and varied datasets. Larger files can make spreadsheet processes prone to failure, max out local CPU resources and shorten the productive life of desktop computers.
"Tools in the market today are not designed for advanced flat file data processing" said Dale McCrory, Chief Product Officer, Lingk. "With Lingk, data professionals everywhere can simply use a SQL recipe with 100x faster processing to end frustrations dealing with limitations of using spreadsheet tools and flat file datasets for business processes and analytics."
Lingk for the love of Flat Files
Lingk recipes enable data professionals to become data magicians. Lingk eliminates the technical and cost barriers for using big data services everywhere in smarter and more efficient ways. Key benefits include:

Automatically process flat file data across diverse file formats of any size, up to 100x faster, using Lingk's Apache Spark stateless in-memory SQL recipe engine.
Apply in-memory database technology to perform staging, deduplication, data diff and transformations from varied sources on billions of rows of data — and automatically load data into data warehouses, data lakes and file stores.
Utilize big data processing in the cloud to extend the life of desktop investments and avoid employee downtime upgrading hardware.
Leverage SQL experience in powerful new ways — including flat files, APIs, and integrations.
Manage all data and projects from a web browser with no software to install.
Use existing data visualization tools — like in Excel, BI or Tableau.
Lingk users can choose flat files from common sources — including local files, SFTP and Amazon S3 — and integrate them into SaaS platforms for Sales, Marketing, Customer Services, Finance and IOT. Business rules for the entire process can be scheduled or API triggered for full automation and users can add intelligent flat file events to automatically trigger workflows in tools like Zapier or Slack.
"As the Salesforce Integration Experts, we frequently encounter legacy, inflexible, flat file processes across all industries, and Lingk provides us a very compelling lightweight integration solution for accelerating implementations and modernizing our client's business processes." said Linda Reid, Chief Innovation Officer, EMS Consulting
"I've developed 28 data projects and 4 one-time conversions using Lingk. I've used other tools and this one is faster and easier." said Dennis Frederick, Programmer/Analyst, Cornell University
"Lingk recipes make converting data for inclusion into our web projects easy and saves our team many hours of manual conversion time." said Brian Morgan, Chair & Professor, Computer and Information Technology Department, Marshall University
Lingk for Good
Lingk helps to eliminate time wasted on messy flat file processing and better manage data professional resource shortages afflicting education, philanthropy and faith-based industries. Contact Lingk for information about the Lingk for Good non-profit program.
"The high cost of integrations and brittle flat file processes are crippling transformation in budget sensitive industries like education and non-profits. With Lingk, we look forward to offering our clients a very affordable modern solution to accelerate their implementations and customer success initiatives." said Tal Frankfurt, CEO, Cloud For Good
Availability
Lingk is available today with a free trial at http://www.lingk.io/pricing/
Learn more at http://www.lingk.io
About Lingk Inc.
Lingk empowers data professionals, teams and organizations with self-service, intelligent, big data processing experiences. Lingk users automate workflows, build data integrations and accelerate analytics time to insight. Teams solve complex data challenges and innovate faster while reducing IT support. Partners centrally manage and collaborate on 100s and 1,000s of projects with Lingk.
Lingk, Lingk Platform and others are among the trademarks of Lingk, Inc.