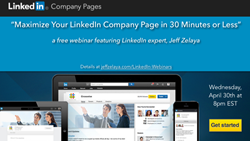 "LinkedIn is replete of marketing & sales potential for the savvy professionals & organizations. However, this potential has been largely untapped..." - Jeff Zelaya
Washington D.C. (PRWEB) April 11, 2014
A LinkedIn Company Page allows organizations to share more detailed information about themselves. According to LinkedIn a Company page allows businesses to:
-Tell their company's story
-Highlight their products and services
-Engage with followers
-Share career opportunities
-Drive word of mouth at scale
-Share industry news
-Share the latest company updates
Although a LinkedIn company page has many uses and can be very beneficial for a business, LinkedIn Trainer, Jeff Zelaya reminds us that.
"Just having a LinkedIn Company page is not enough, in order to maximize your results with a company page you have to integrate it into an all encompassing marketing & sales strategy PLUS know exactly what levers to pull and what buttons to push on your LinkedIn company page to actually make it all work."
LinkedIn announced this past quarter that they have reached 277 million members.
This makes LinkedIn according to Jeff Zelaya
"LinkedIn is replete of marketing and sales potential for the savvy professionals and organizations. However, this potential has been largely untapped because so many companies and marketing professionals aren't aware or educated on how to effectively use LinkedIn to drive lead generation, brand awareness and ultimately sales revenue."
Jeff believes that by strategically using a LinkedIn company page you can achieve tremendous results that help an entire organization from HR to Marketing to Sales.
In this upcoming LinkedIn webinar entitled "Maximize Your LinkedIn Company Page in 30 Minutes or Less", Jeff Zelaya will be teaching step by step the "How To" of creating, optimizing and maximizing the results that companies can get from using LinkedIn Company Pages.
Other topics that will be covered are:
-How to gain followers and brand ambassadors.
-How to use brand ambassadors to drive word of mouth, recommendations, and referrals.
-How to cultivate an engaged LinkedIn community that facilitates going viral
There is no cost to attend this 60 minute webinar. You can reserve your spot here: http://jeffzelaya.com/2014/04/11/linkedin-company-page-webinar-free/
A "Social Selling 101" Webinar has also been announced for May 1st at 8pm. You can see Jeff's full schedule of upcoming LinkedIn webinars here: http://jeffzelaya.com/linkedin-webinars/
About Jeff Zelaya:
Jeff Zelaya is a marketing, sales and public relations consultant. He's a professional public speaker and founder of South Florida's leading speakers' bureau. Jeff is an award-winning Sales Executive and Trainer for a leading cloud marketing software company. Jeff, his wife Emma and his newborn son Elijah currently reside in the Washington D.C. area.