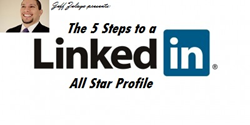 'Jeff's speech was amazing and captivating; you could hear a pin hit the ground. Jeff's speech gave me life and it motivated me to continue striving for greatness.' - Jerome Lynch, FIU Student and ALPFA President
Washington, DC (PRWEB) February 24, 2014
For the past 4 years, Jeff has been a LinkedIn advocator and has inspired hundreds of students and business professionals to better leverage LinkedIn in order to further their career and business opportunities. Jeff has achieved much success in using LinkedIn and is passionate about sharing his formula for LinkedIn success with others. He's spoken at 54 events in the past 3 years and has accumulated praise from college professors, business executives and students for his educational and highly engaging LinkedIn presentations.
On the social network where the average age of a user is 44.3, Jeff Zelaya at age 29 is dominating LinkedIn by achieving the highest number of recommendations to date by a young person (187 at the time of writing).
FIU Student and ALPFA President Jerome Lynch had this to say:
"Jeff's speech was amazing and captivating; you could hear a pin hit the ground. Jeff's speech gave me life and it motivated me to continue striving for greatness."
Toni Allison Chadwell, Event Specialist at Visit Jacksonville, recently booked Jeff Zelaya for a LinkedIn workshop and had this to share:
"Jeff Zelaya is an expert in his industry and extremely passionate about helping others. He is a thinker-doer-energetic go-getter. I am fortunate to have worked with Jeff on facilitating a presentation for him for over 100 clients- remotely, he was fantastic and I would hire him again!"
This Thursday, February 27th at 8pm EST you will have the opportunity to hear Jeff Zelaya first hand at no cost. He will be presenting a webinar entitled: "The 5 Steps to a LinkedIn All-Star Profile."
In this LinkedIn webinar, Jeff will be sharing how to create an All-Star LinkedIn profile that is guaranteed to generate you more visibility and opportunities. Registration is limited to the first 100 people that sign up today:
You can register here: https://attendee.gotowebinar.com/register/1419920667818723586.