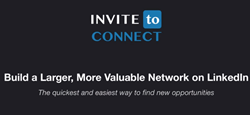 Invitetoconnect.com is offering LinkedIn users a new technology designed to provide a quick and precise way to grow their networks, build their relationships and capitalize on their connections
Los Angeles, CA (PRWEB) August 20, 2015
Just two days after LinkedIn announced its new app, LinkedIn Lookup, Invite to Connect has announced Invitetoconnect.com. The company's flagship product is designed to welcome LinkedIn users to build a larger and more valuable network by providing a quick and easy way to connect with the world's most helpful and well-connected people.
With LinkedIn currently boasting over 380 million users, invitetoconnect.com is hoping to capitalize by allowing LinkedIn users the opportunity to be added to a well maintained "Invite Me" list. Once a user is added to the list, they will begin receiving connection request from other LinkedIn members almost immediately. Every week the company will publish an updated invitation list that members will be able to download and import into their LinkedIn account, giving them a continual stream of new opportunities and fresh connections to build their network.
Invite to Connect has distinguished itself from other competitors, who attempt to supply similar types of services by solely concentrating on the LinkedIn Network and by offering connection filtering options that have previously never been offered to LinkedIn's users.
"One of the companies most requested options was the ability to filter connection requests by country and industry. This level of filtering will allow users, not only the quickest and easiest way to find new opportunities but also the ability to control how they grow their LinkedIn network with respect to geographic location and industry," stated Philip Cardwell, Cofounder of Invite to Connect.
The company's sophisticated filtering system also allows users to "White List" both countries and industries, in order to precisely target LinkedIn connections and prospects. The decision to introduce these filtering capabilities were primarily due to reports published at the beginning of this year, that 70% of LinkedIn's users reside outside of the United States.
With additional options planned for the future, Invite to Connect will continue to push its technology to allow its members the quickest and easiest way to find new opportunities and build a larger and more valuable network on LinkedIn. According to the company, any LinkedIn members wanting to participate may sign up on the company's website.
LinkedIn is one of the oldest social networks, surviving changes in technology, a tougher demographic and a number of challenges along the way. The LinkedIn site officially launched on May 5, 2003 and at the end of the first month in operation had a total of 4,500 members in the network. Today the company operates the world's largest professional network on the Internet with more than 380 million members in over 200 countries and territories.
Invite to Connect and Invitetoconnect.com have no association, relationship nor are they endorsed by LinkedIn Corporation or LinkedIn Ireland.
This information is being distributed for the client, by Philip Cardwell at Universal Media Consultants. From top magazines to leading TV stations, UMC has been very effective at distilling client's messages in the major national media. The aim is simple. To multiply message impact and client exposure in highly targeted markets, quickly, imaginatively and cost-effectively. For more information visit: http://www.universal-media-consultants.com.