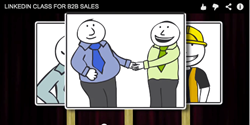 Who are your "Free Salespeople?" If you don't know who is in your network, your network doesn't know who you are either, which means they are NOT going to refer you.
Kansas City, MO (PRWEB) September 18, 2014
Q: Why do businesses use LinkedIn?
A: To hire new employees, right?
What's the point of Linkedin if there's no need to find new hires? LinkedIn is the largest professional network in the world, but many people only see one tiny piece of the puzzle. They believe it's a place to find a job, or for employers to find candidates for open positions.
So why would a business need to use LinkedIn outside of hiring new people? According to ThinkViral, the answer is simple: LinkedIn is a goldmine for sales.
"Think about it....the majority of people on LinkedIn are professionals in their fields," says ThinkViral President, Anne Cull. "They are not there looking for work; they are on LinkedIn looking for solutions, referrals and partners. They have a problem or a need, and they are looking for a person, a product, or a service that can help them solve that problem or fill that need. It's as simple as that."
And yet, when most people browse LinkedIn profiles, what do they find most? Resumes. A bunch of people who look like they're hunting for a job, even if they're not.
So what should companies be doing with LinkedIn if they want to take advantage of the massive sales potential? "That's what this new online class reveals," says Cull. Most of the classes currently available for LinkedIn training show users how to set up a profile and connect with people, but they lack business strategy and often leave people confused about how to generate any real leads or referrals.
This class is short and to the point, and is meant to educate AND entertain so business owners and commission only salespeople won't see it as a waste of time. In fact, it will help them avoid wasting time attending countless "social media" seminars trying to figure out what they are supposed to be doing online. Total run time for the class is just under 25 minutes and so far, the feedback has been that it goes by fast because the class is so entertaining.
"This is not your average PowerPoint presentation," says Cull. "People in sales are typically high energy and need a quick solution they can run with. If it makes them laugh in the process, bonus!"
The online LinkedIn class sells for $99 and can be purchased at ThinkViral.
ABOUT THINKVIRAL LLC
ThinkViral is a full service Online Business Development firm. They show businesses how customers should be coming to them instead of their salespeople always hunting new leads down, and they help companies set up a framework to consistently bring in new business by supporting the clients they already have. People have so much confusion around online marketing, social media, and advertising and they show you what works – and what doesn't, for your industry.