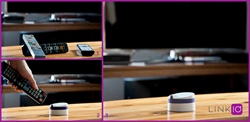 We've developed plugs and wall switches that can be controlled via smartphone- this allows people to control any electronic, not just ones that have WiFi or Bluetooth capabilities- all from one central location
Charlotte, NC (PRWEB) December 10, 2014
Linkio, the company behind a new and affordable home automation system, has raised over €25,000 (around $32,000) in less than one week on Kickstarter. Instead of requiring consumers to purchase new products, like other smart home systems, Linkio allows people to control the electronics they already own using a mobile app.
The system consists of four components:

Control center: connects the different components to the mobile app.
Electrical outlet plug: allows consumers to power electronics that are plugged into a wall outlet on and off using the mobile app.
Wall insert switch: allows consumers to control lights and ceiling fans traditionally or with the smartphone app.
Infrared remote: replaces traditional remotes and allows consumers to control existing entertainment systems and other electronics using the mobile app.
Since the control center has both a USB port and WiFi capability, consumers can connect virtually any device, including security cameras and existing smarthome devices such as the Belkin WeMo, to the mobile app. Unlike other smart home systems, Linkio doesn't collect data on their servers. Instead, the control center stores and uses data- this ensures consumers' privacy.
"At Linkio, we've worked to develop a simple-to-use system that allows people to control every device in their home," said Linkio founder Thibault Honegger. "We've developed plugs and wall switches that can be controlled via smartphone- this allows people to control any electronic, not just ones that have WiFi or Bluetooth capabilities- all from one central location"
The entire Linkio system is available for around $100- much less than other automation systems on the market. The company will be running its crowdfunding campaign on Kickstarter until January 8. To learn more or to order the system, visit the campaign page here: http://bit.ly/LinkioKS.
ABOUT LINKIO
Linkio has built a team of scientists, engineers and designers to create a system that allows consumers to use a mobile app to control any electronic device. Linkio has offices in The United States, France, and The Netherlands which allows the team to utilize the best technology in the world. Linkio's goal is to offer consumers simple and affordable solutions for home automation. For more information, visit bitly.com/LinkioKS or http://linkio.net/en/.