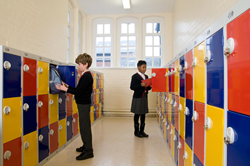 School lockers not only look good and increase storage capacity, they also offer many health and safety benefits, including fire safety.
UK (PRWEB UK) 28 May 2014
To kick start the Pegs v Lockers campaign, Link Lockers carried out an online poll with the UK's primary schools to understand their perceptions of lockers and to establish the kinds of storage that schools use.
"The results we're really interesting," said Danielle Hassall, Link Lockers Marketing Manager. "Sixty-one per cent of respondents said they thought lockers would take up more room than coat pegs. This is a common misconception because lockers actually provide more storage in a smaller space than pegs."
In a two-metre length, which would accommodate 12 coat pegs, 18 locker compartments can be fitted, which means schools can either benefit from either additional storage for six more pupils or reduce the amount of space required.
As part of the campaign, which began in May 2014, Link Lockers has launched a national competition for one school to win £2,000 towards a locker installation.
Link Lockers will tweet from its @SchoolLockersUK account using the hashtag #pegsvlockers, and will update its Facebook account Facebook.com/SchoollockersUK to raise awareness about the benefits of replacing pegs with lockers.
Danielle said: "With space at a premium in many schools, lockers have brought about myriad benefits, as headteachers look for affordable ways to maintain high standards of safety.
"It's not just that lockers look good and increase storage capacity, though; there are many health and safety reasons, including fire safety, as to why replacing the old-style coat pegs makes sense in a busy primary school environment."
Schools undergo annual fire inspections, which are carried out by the local fire service, during which they have to demonstrate corridors are free from obstructions that could impede exit in an emergency. Any hindrances – which include coats and bags that have fallen off pegs onto the floor – could cause significant delays if the school had to be evacuated.
Having a clutter-free corridor means that if there is an emergency, fire crews do not have to search through piles of coats, enabling them to do their job far quicker and more efficiently.
It's not just fire inspectors that check this issue carefully – many insurance companies now insist that coat pegs are not located along exit routes.
By choosing lockers, schools conform to existing best practice because the Fire Safety Risk Assessment Guidance for Education Premises advise that only non-combustible lockers should be used along corridors. Link Lockers' steel lockers are non-combustible and are manufactured to BS4680, the specification for clothes lockers.
Headteachers and school staff love them because they dramatically reduce the problem of lost property and damaged belongings and can contribute to a productive learning environment. Pupils also love using them!
Danielle added: "We are excited to launch this awareness campaign and are looking forward to giving one school the opportunity to win £2,000 towards transforming their school this summer."
For further information on school lockers and the pegsvlockers competition, click here.
Follow @SchoolLockersUK on Twitter
Like SchoolLockersUK on Facebook
About Link Lockers:
Link Lockers is the UK's largest manufacturer of lockers, locker accessories and cupboards. Established over 30 years ago, the Link Lockers brand is now recognised as a sign of quality products and dedicated service across all market sectors.
Based at Telford in Shropshire, the company prides itself on its experience and expertise, its products and service, and the proven ability to provide storage solutions to meet all requirements, including manually and mechanically handled racking and shelving systems, through sister company Link 51.
For further information, visit or call the free helpline on 08000 733 300.