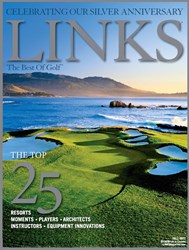 Hilton Head, S.C. (PRWEB) September 11, 2013
On the cover of every issue of LINKS Magazine is the tag line, "The Best of Golf." This fall, to mark its 25th anniversary, the game's freshest and most exciting magazine follows through on that promise by naming the "best of golf" in a host of key categories.
The Fall 2013 edition of LINKS—available September 25th—features six lists of the "Top 25s" through golf history. They are:
-Top 25 Players (men, women, international)
-Architects
-Resorts
-Instructors
-Equipment innovations
-Moments
Compiled by the editors of LINKS, each list looks back to the earliest days of golf to determine who, what, and when have had the biggest impact on the game. And while many of the selections are to be expected, there are also some significant surprises.
"Coming up with a list of the top 25 golf course architects was a particularly challenging process," says LINKS editor George Peper, "and our choice as number one may raise a few eyebrows, but his credentials are undeniable."
For golf fanatics who can't wait, LINKS is pre-releasing two of the lists on its web site, linksmagazine.com, and encouraging feedback from those who agree and disagree with the choices. As of now, the lists of top players and resorts will appear on the web site (at linksmagazine.com/Top25) with the opportunity for readers to leave their comments.
Also in the Fall issue are regular features that are favorites with readers, including a "First Peek" at a new Tom Doak course; a leading architect commenting on "My Design"; and a comparison of two nearby courses called "Which Is Better?" with Green Bay Packers quarterback Aaron Rodgers weighing in on his favorite layout at The American Club in Kohler, Wisc.
LINKS Magazine was founded in 1988 with the mission of speaking to an audience of devoted golfers who share a passion for the best the game has to offer. It specializes in the most in-depth and reader-relatable information on courses, clubs, and communities throughout the United States, United Kingdom, and golf's emerging destinations around the world.
Complementing the printed magazine and the website, LINKS produces a number of custom products and has recently begun a comprehensive online strategy that includes a new iPad, Android, and Kindle Fire app, a website dedicated to golf real estate (linksgolfrealestate.com), and will soon feature regular digital editions under the HotLINKS brand to augment the four-times-a-year publishing schedule of winter, spring, summer and fall.
# # #