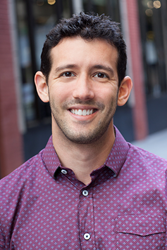 I'm excited to join Linqia's team because they are bringing the scale and performance capabilities of AI to influencer marketing in a way that's never been done before.
San Francisco, CA (PRWEB) April 27, 2017
Linqia, a leader in performance content marketing technology, today announced that Jonathan Pollack has been appointed as the company's new VP of Product. Pollack comes to Linqia from MediaMath, where he ran product management for the company's supply related products to ensure maximum efficiency for their clients. He brings over a decade of experience managing product design and development, along with deep expertise in AI and machine learning, which he will leverage to solve content challenges at scale for Linqia's customers.
"Linqia has run thousands of results-driven programs for leading and emerging brands alike, using our proprietary algorithms to surface insights and drive repeatable, predictable results," said Jon Pollack, VP of Product for Linqia. "Because influencers and their audiences are so dynamic, Linqia uses machine learning to identify patterns that can predict an influencer's success and their affinity for brands. I'm excited to join Linqia's team because they are bringing the scale and performance capabilities of AI to influencer marketing in a way that's never been done before."
At Linqia, Pollack will manage the design and development of Linqia's platform and proprietary algorithms, with a focus on scaling its ROI-driven technology. Pollack's expertise in AI and programmatic media will enable the company to build on a self-learning foundation that sets them up for exponential growth.
While at MediaMath, Pollack led the team in charge of redesigning the buying logic for the company's real-time bidding product and conceived, designed, and launched MediaMath's self-service supply integration program, which made partner integrations 8X more efficient. Prior to MediaMath, Jon managed the service and optimization team at Akamai Technologies, where he customized secure end-to-end solutions for customers, revamped service processes to be more effective, and built internal tools to make the team more efficient.
"From discovery to matching to sentiment analysis, Linqia leverages industry-leading AI technology to solve content marketing problems at scale," said Nader Alizadeh, Co-founder and CEO of Linqia. "We are so confident in our predictive technology that we have built an entire business on guaranteeing specific outcomes from each influencer. Because Linqia is performance-based, we are only compensated if we deliver on these projections. Jon is an incredible asset to our team and we look forward to leveraging his expertise to strengthen our position as a technology leader."
About Linqia
Linqia brings the science and accountability of online media to influencer marketing through a results-based approach called influencer media. Linqia's AI-driven platform continuously learns and improves, matching brands with the right mix of creators who will deliver meaningful outcomes. As the only influencer marketing provider who aligns influencer incentives with the brand's goals, Linqia guarantees the results of every program we run. The platform also serves as a digital content lab, where marketers can organically test and amplify the best performing influencer content to drive greater ROI from their paid, owned and earned media.
Founded in 2012, Linqia works with over 250 leading national brands including Black & Decker, Gerber, Herdez, Kimberly-Clark, Mezzetta, McDonald's, NBC, Nestle, Purina, Square, Unilever, Uniqlo, Viacom and Walmart. Linqia is headquartered in San Francisco, CA with offices in Chicago and New York.