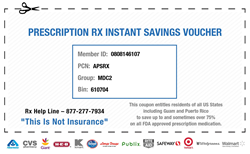 (PRWEB) August 12, 2014
Medication Discount Cards for Linzess Help Sufferers of Irritable Bowel Syndrome
Discounts on IBS medications like Linzess or Amitiza allow patients to regain quality of life
Irritable Bowel Syndrome (IBS) may not sound serious, but for the roughly 15% of Americans who have to cope with it on a daily basis, it is anything but frivolous. The gastrointestinal tract makes up most of the human digestive system. When it isn't functioning properly, the result can be a host of uncomfortable symptoms that can have a negative impact on mobility, concentration, work output, mood, and overall health. If IBS is severe or goes untreated, it can result in nutritional deficiencies, sudden weight gain or loss, and a worsening of discomfort. IBS can also be exacerbated by certain dietary choices, stress, and a lack of proper hydration.
When patients have trouble paying for regular checkups and prescription medication, non-life-threatening conditions like IBS are more likely to go untreated. Savings of 10-75% on IBS drugs like Amitiza and Linzess along with probiotics and fiber supplements can spare millions of Americans symptoms like backache, stomach cramps, fatigue, headaches, and even depression. MedicationDiscountCard.com offers big savings on prescription medication, helping patients and families afford the medications they need.
MedicationDiscountCard.com offers steep discounts on Linzess, Amitiza and other medications that treat IBS, relieve symptoms, and aid digestion. The goal of Medication Discount Card LLC is to improve the quality of patient's lives by helping them afford the medications their doctor prescribes.
Prescription discount cards are free, so no credit card or bank information is required. There are no medical or insurance questions, and the cards do not expire. Discount cards may be used for Linzess and other drugs that treat IBS, as well as other prescribed medications not covered by existing insurance. Patients can print their card from the website for immediate use, or request that a card be sent by postal mail. Discounts of 10-75% are available at thousands of chain and local pharmacies across the United States. Medication Discount Card LLC has helped thousands of uninsured or underinsured families by offering affordable prescription medications.