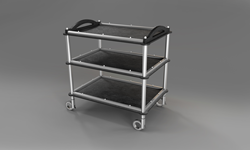 Designboard is durable and attractive enough for the guest services areas, where food and drinks are served, as well as being tough enough for kitchen work."--Zach Wright, Lion's Wood Banquet Furniture
Scranton, PA (PRWEB) December 22, 2015
VYCOM's Designboard (TM) has been chosen by Lion's Wood Banquet Furniture in Glen Burnie, Maryland, as part of an expansion of its line of elegant yet durable banquet furniture. The company selected the durable HDPE material for its banquet buffet carts, because it is attractive, yet strong enough to withstand daily use and wet environments. After trying out Designboard for cutting boards on portable carts, the company is now specifying the material for a variety of banquet furniture in their ever-expanding product line.
"Our designer lived on his boat, so he knew the types of materials used to construct its surfaces would also hold up well in the daily wear and tear conditions that our products are exposed to," explains Zachary Wright, president of Lion's Wood Banquet Furniture. "That's when we found VYCOM's Designboard HDPE and began using it in the buffets."
VYCOM'S Designboard offers the rich designer shades and textures of wood and metals with the durability and weather resistance of solid HDPE. Available with UV resistance, Designboard has superior scratch resistance and stiffness and will not rust, corrode, rot, delaminate, or splinter.
Responding to customer requests for an attractive yet durable all-purpose cart, Lion's Wood Banquet Furniture recently introduced the Tivoli Food Service Cart, constructed of HDPE and stainless steel.
"It's durable and attractive enough for the guest services areas, where food and drinks are served, as well as being tough enough for kitchen work areas," says Wright, noting a high-end boutique hotel that will open in Miami Beach has ordered six carts. He expects that the carts will be used for bussing, so they'll get food and drink spills all over and in cracks and crevasses. "It's perfectly fine to take them out back and just hose them off."
Lion's Wood Banquet Furniture is currently designing an entry-level service bar that's completely water-resistant. Wright is working with Debby Shike of Piedmont Plastics, a distributor of plastic materials for VYCOM, to source the Designboard for this new product, which he expects to introduce this winter. The countertop will be all HDPE and the operator-side of the bar will be stainless steel. Black plastic laminate and steel will finish the other sides.
"When we establish which products last in this environment, we continue to use them," says Wright. "Designboard's hammered look and 1-inch thickness give it a more substantial look and a sleek character. It's an ideal choice for many of our products." Learn more about Designboard on VYCOM's website at http://www.vycomplastics.com.
About VYCOM:
VYCOM, a division of CPG International, is dedicated to maintaining an environment where quality meets performance. VYCOM offers the largest range of products, capabilities and inventory for all your Olefin and PVC needs. For more information, visit http://www.vycomplastics.com.
About Piedmont Plastics
Founded in 1968, Piedmont Plastics is an industry leader in the wholesale distribution of plastic sheet, rod, tube and film. Offering the most comprehensive assortment of top brands, and unrivaled product breadth, Piedmont delivers plastics solutions to more than 75 commercial and industrial markets. Operating from over 40 branch locations throughout North America, Piedmont provides the highest quality of service available in the industry. Each branch offers local inventory, value-added capabilities, and an expert sales team. Piedmont Plastics is…where solutions take shape. For more information, visit http://www.piedmontplastics.com.