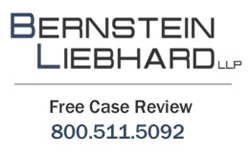 Our Firm continues to hear from Lipitor patients who are concerned that the use of this drug is related to their development of Type 2 diabetes.
New York, New York (PRWEB) November 03, 2013
Court records from a around the country indicate that more plaintiffs have filed Lipitor lawsuits (http://www.lipitorlawsuitcenter.com/) which allege the use of the popular statin drug caused patients to develop new-onset Type 2 diabetes, Bernstein Liebhard LLP reports. According to a report published by Bluefield Daily Telegraph, 36 Lipitor lawsuits filed in West Virginia State Court were recently transferred to U.S. District Court, Southern District of West Virginia. Among other things, the complaints allege that Pfizer, Inc. never warned patients of any potential relation between changes in blood sugar levels and taking Lipitor, the Telegraph reported.*
"Our Firm continues to hear from Lipitor patients who are concerned that the use of this drug is related to their development of Type 2 diabetes. We expected this litigation to grow in the coming months, and the recent developments in West Virginia would seem to confirm those expectations," says Bernstein Liebhard LLP, a nationwide law firm representing victims of defective drugs and medical devices. The Firm is currently offering free Lipitor lawsuit consultations to anyone who may have been harmed by this medication.
Lipitor Lawsuits
The Lipitor litigation has been growing since February 2012, when the U.S. Food & Drug Administration (FDA) ordered Pfizer, Inc. to add new warnings to the Lipitor label regarding an increased risk of new-onset diabetes in patients who took the cholesterol-lowering statin. Court documents filed in October indicate that plaintiffs in federal Lipitor lawsuits have filed a second request with the U.S. Judicial Panel on Multidistrict Litigation seeking the transfer of all federally-filed claims involving similar allegations to a single federal court for pretrial proceedings. If the request is granted, all pending and future lawsuits involving Lipitor and diabetes, including those recently removed to West Virginia federal court, could be transferred to that proceeding. According to court records, plaintiffs have proposed that the federal Lipitor litigation be established in U.S. District Court, District of South Carolina, where at least 14 Lipitor lawsuits are pending and are being coordinated in an informal manner. (In re Lipitor (Atorvastatin) Litigation, MDL No. 2502 (JPML))
Additional court records filed last month also indicate that a number of similar Lipitor lawsuits have been consolidated in U.S. District Court, Southern District of Illinois, for the purposes of discovery and other pretrial proceedings. (Hines v.Pfizer Inc., No. 13-404, S.D. Ill.)
Individuals who allegedly developed Type 2 diabetes due to their use of Lipitor may be entitled to compensation for medical bills, lost wages, pain and suffering and more. Learn more about the potential association between Lipitor and diabetes at Bernstein Liebhard LLP's website. To arrange for a free case review, please call 800-511-5092.
*bdtonline.com/local/x2112900259/Pfizer-Inc-state-civil-complaints-removed-to-federal-court-docket/?state=taberU
About Bernstein Liebhard LLP
Bernstein Liebhard LLP is a New York-based law firm exclusively representing injured persons in complex individual and class action lawsuits nationwide since 1993, including those who have been harmed by dangerous drugs, defective medical devices and consumer products. The firm has been named by The National Law Journal to the "Plaintiffs' Hot List," recognizing the top plaintiffs' firms in the country, for the past 11 consecutive years.
Bernstein Liebhard LLP
10 East 40th Street
New York, New York 10016
800-511-5092
ATTORNEY ADVERTISING. © 2013 Bernstein Liebhard LLP. The law firm responsible for this advertisement is Bernstein Liebhard LLP, 10 East 40th Street, New York, New York 10016, 800-511-5092. Prior results do not guarantee or predict a similar outcome with respect to any future matter.
Contact Information:
Felecia L. Stern, Esq.
Bernstein Liebhard LLP
info (at) consumerinjurylawyers (dot) com
http://www.lipitorlawsuitcenter.com/