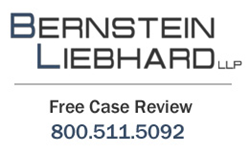 The allegations put forth in Lipitor lawsuits, along with the concerns cited by the authors of the Lancet and JAMA reports, would suggest that the new recommendations need further evaluation.
New York, New York (PRWEB) December 16, 2013
As Lipitor lawsuits (http://www.lipitorlawsuitcenter.com/) that allege use of the cholesterol-lowering medication can result in the development of new-onset Type 2 diabetes continue to mount in courts around the country, Bernstein Liebhard LLP notes that newly-proposed statin guidelines have begun to attract criticism. For example, according to a November 17th New York Times report, an article published last month in the Lancet takes issue with the risk assessment algorithm provided by the guidelines, and questions whether or not it may overestimate a patients' risk of heart attack or stroke. The problems cited by the authors of the Lancet commentary have prompted at least one prominent medical researcher to call for a halt to the implementation of the guidelines, the Times said.*
Writing in the Journal of the American Medical Association on December 2nd, Dr. John P. A. Ioannidis, director of the Stanford Prevention Research Center at Stanford University School of Medicine, pointed to side effects like diabetes and myopathy as reasons for caution. According to Dr. Ioannidis, the guidelines released last month by the American Heart Association and the American College of Cardiology could result in millions of people who do not have cardiovascular disease being prescribed statins like Lipitor. "It is uncertain whether this would be one of the greatest achievements or one of the worst disasters of medical history," he writes.**
"Already a number of lawsuits are pending that allege a connection between the use of Lipitor and diabetes. The allegations put forth in Lipitor lawsuits, along with the concerns cited by the authors of the Lancet and JAMA commentaries, would suggest that the new recommendations need further evaluation," says Bernstein Liebhard LLP, a nationwide law firm representing victims of defective drugs and medical devices. The Firm is currently offering free Lipitor lawsuit reviews to individuals who took the statin and later developed Type 2 diabetes.
Lipitor Lawsuits
According to a petition filed with the U.S. Judicial Panel on Multidistrict Litigation (JPML) in October, more than 100 Lipitor lawsuits involving diabetes allegations had been filed in federal courts around the country. The petition seeks the consolidation of all federally-filed Lipitor lawsuits in a multidistrict litigation, and transfer of the cases to a single judge in U.S. District Court, District of South Carolina. The filing also notes that this is the second time that plaintiffs in Lipitor lawsuits have sought the creation of a multidistrict litigation for their claims. Their previous petition was rejected by the JPML earlier this year, when only about a dozen claims had been filed. (In re Lipitor (Atorvastatin) Litigation, MDL No. 2502 (JPML))
According to documents filed in the U.S. District Court, Southern District of Illinois, a number of similar lawsuits involving Lipitor and diabetes have already been consolidated in that jurisdiction for the purposes of discovery and other pretrial proceedings. (Hines v.Pfizer Inc., No. 13-404, S.D. Ill.)
In February 2012, the U.S. Food & Drug Administration (FDA) ordered Pfizer, Inc. to add new warnings to the Lipitor label regarding its possible association with increases in blood sugar levels. The FDA action followed the publication of a study the prior month in JAMA: Internal Medicine, which reported that post-menopausal women treated with drugs like Lipitor were at increased risk of developing new-onset Type 2 diabetes. ***
This past May, the British Medical Journal also reported an association between Lipitor and diabetes, finding that patients who took the drug had a 22 percent increased risk of new-onset diabetes.****
Individuals who developed new-onset Type 2 diabetes allegedly related to their use of Lipitor may be entitled to compensation for medical bills, lost wages, pain and suffering, and more. Find out more about filing a Lipitor lawsuit at Bernstein Liebhard LLP's website. To arrange for a free legal review, please call 800-511-5092.
*nytimes.com/2013/11/18/health/risk-calculator-for-cholesterol-appears-flawed.html?_r=0, New York Times, November 17, 2013
**https://www.aclsonline.us/articles/more-than-a-billion-people-taking-statins-potential-implications-of-the-new-cardiovascular-guidelines/, JAMA, December 2, 2013
****archinte.jamanetwork.com/article.aspx?articleid=1108676, JAMA Internal Medicine, January 2012
****bmj.com/content/346/bmj.f2610, BMJ, May 2013
About Bernstein Liebhard LLP
Bernstein Liebhard LLP is a New York-based law firm exclusively representing injured persons in complex individual and class action lawsuits nationwide since 1993, including those who have been harmed by dangerous drugs, defective medical devices and consumer products. The firm has been named by The National Law Journal to the Plaintiffs Hot List, recognizing the top plaintiffs firms in the country, for the past 11 consecutive years.
Bernstein Liebhard LLP
10 East 40th Street
New York, New York 10016
800-511-5092
ATTORNEY ADVERTISING. © 2013 Bernstein Liebhard LLP. The law firm responsible for this advertisement is Bernstein Liebhard LLP, 10 East 40th Street, New York, New York 10016, 800-511-5092. Prior results do not guarantee or predict a similar outcome with respect to any future matter.
Contact Information:
Felecia L. Stern, Esq.
Bernstein Liebhard LLP
info (at) consumerinjurylawyers (dot) com
http://www.lipitorlawsuitcenter.com/
https://plus.google.com/115936073311125306742?rel=author