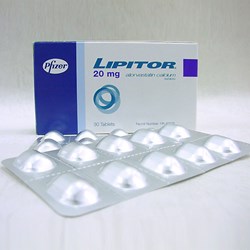 ...Lipitor's manufacturer was aware of the increased risk of patients developing type-2 diabetes while taking Lipitor, but failed to adequately disclose the risk to consumers and prescribing physicians
Pensacola, Fla. (PRWEB) August 19, 2013
A plaintiff's motion to consolidate* was denied by a federal judicial panel for Lipitor on Aug. 8, with the Judge citing too few Lipitor lawsuit claims as the reason for the denial. The Judge ruled the Lipitor lawsuit claims in the MDL request could be voluntarily handled with Lipitor's manufacturer.
Despite the denial of Lipitor's motion to consolidate, the Levin, Papantonio law firm is continuing to investigate the connection between Lipitor (atorvastatin), an anti-cholesterol drug, and type-2 diabetes, and Lipitor lawsuit claims are being filed on behalf of individuals who were injured as a result of taking Lipitor. At this time, numerous Lipitor lawsuit claims have been filed, and many more are expected to be filed in the future.
In 2012, Yunsheng Ma and his team of researchers at the University of Massachusetts Medical School conducted a study** from 1993 to 2005 that included the collection of data from approximately 150,000 women who were taking Lipitor or another statin drug, with the average age of the women being 63. The study concluded that individuals taking Lipitor or other statin drugs, and particularly postmenopausal women, were more likely to develop type-2 diabetes compared to those not taking a statin drug.
Lipitor is the most popular cholesterol-controlling drug available on the market. Since its introduction onto the market in 1996, Lipitor has been the most profitable drug in pharmaceutical history.
"According to allegations of the Lipitor lawsuit claims filed, Lipitor's manufacturer was aware of the increased risk of patients developing type-2 diabetes while taking Lipitor, but failed to adequately disclose the risk to consumers and prescribing physicians," commented Daniel Nigh, a Lipitor lawyer with Levin, Papantonio.
In 2012, the Food and Drug Administration (FDA) issued a drug safety communication*** regarding Lipitor, and ordering a label change for the drug to reflect its link to type-2 diabetes.
If you or a loved one has developed type-2 diabetes while taking Lipitor, then you may have a case to file Lipitor lawsuit. Please do not hesitate to contact us concerning your situation, and an experienced Lipitor lawyer can help you determine if you have a case. Please visit our site for more information.

Daniel Nigh is an attorney with the Levin, Papantonio law firm.
SOURCES:
*MDL Request, 2013
-Evalina Smalls v. Pfizer Inc., District of South Carolina, Civil Action No. 2:13-cv-796-RMG
-Waltraud Gina Kane v. Pfizer Inc., District of South Carolina, Civil Action No. 2:13-cv-1012-RMG
-Susan Marie Turner v. Pfizer Inc., District of South Carolina, Civil Action No. 2:13-cv-01108-RMG
Available at: lipitorlawsuithelp.com/motion-to-consolidate-filed-in-lipitor-lawsuit/ -
**Annie L. Culver, Ira S. Ockene, Raji Balasubramanian, Barbara C. Olendzki, Deidre M. Sepavich, Jean Wactawski-Wende, JoAnn E. Manson, Yongxia Qiao, Simin Liu, Philip A. Merriam, Catherine Rahilly-Tierny, Fridtjof Thomas, Jeffrey S. Berger, Judith K. Ockene, J. David Curb, and Yunsheng Ma. "Statin Use and Risk of Diabetes Mellitus in Postmenopausal Women in the Women's Health Initiative" Archives of Internal Medicine (2012).
Available at: works.bepress.com/may/80
***FDA Safety Communication Concerning Label Change on Statin Drugs, 2012
Available at: fda.gov/drugs/drugsafety/ucm293101.htm
ABOUT LEVIN, PAPANTONIO LAW FIRM
Since opening its doors in 1955, the law firm of Levin, Papantonio, Thomas, Mitchell, Rafferty & Proctor, P.A. has handled many cases in mass tort litigation. Total settlements and verdicts won by the firm have exceeded $1 billion, and Levin, Papantonio was recognized by the National Law Journal in 2002 as the fourth most successful law firm in the country.
The firm presently employs 39 attorneys who specialize in various litigations, including products liability, personal injury, car accidents, and defective drugs and devices.
CONTACT
Levin, Papantonio, Thomas, Mitchell, Rafferty & Proctor, P.A.
316 South Baylen Street, Suite 600
Pensacola, FL 32502-5996
Toll Free: (888) 435-7001
Local: (850) 435-7000
Fax: (850) 497-7057