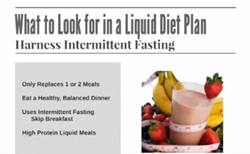 (PRWEB) March 18, 2014
HealthNutritionNews.org has released a new video that explains what to look for when looking for the best results with a liquid diet. Many people see these diet plans as a quick way to achieve their weight loss goals. However, when a dieter has not done their research the probability of that lost weight coming back is alarmingly high. In the video they highlight the fact that despite widespread advice to replace all meals with liquids current research is finding that dieters who use these plans in conjunction with meals will have better long term weight loss results.
The video from HealthNutritionNews.org also discusses some of the dangers a dieter can run into if not careful with their weight loss plans. Occasionally, an individual will restrict their nutrient and protein intakes too extremely and it can cause some health concerns. Including, but not limited to, fatigue, dizziness, hair loss, and heart damage. This is why Health and Nutrition stresses that a liquid diet plan should contain a balance of meal replacement shakes and a healthy and balanced dinner.
During the video they make suggestions on what to look for when a dieter is searching for a plan that fits their needs. Their advice is to look for a nutritional plan that only recommends replacing two meals with drinks, usually breakfast and lunch, but also contains a traditional dinner. Additionally, something they use as a good indicator of the best liquid diets is whether or not it utilizes intermittent fasting. Intermittent fasting restricts meals to certain time frames during the day to optimize the body's fat burning ability. One last thing to look at is the amount of protein that the plan provides.
Health Nutrition News informs viewers about protein being the most metabolic nutrient and therefore the foundation of fat-burning diets is built around it. Not getting enough protein can cause weight loss plateaus and prevent a dieter from achieving their weight loss goals. As a result many liquid diet recipes call for the addition of a protein supplement but HealthNutritionNews.org suggests only using a protein powder that has the important enzyme blend ProHydrolase which doubles protein absorption in the body. Furthermore, it is also important to look at the nutritional label to ensure it is both one hundred percent all natural and specifically lists the exact amounts of each protein. With the proper information, to make informed decisions, a dieter can choose the correct liquid diet plan to achieve their weight loss goals and continue to keep that excess fat off.
Health Nutrition News has compiled a twenty-two page e-book containing their recommended diet plan and some liquid diet recipes. The free book can be downloaded at http://healthnutritionnews.org/liquid-diet-plan.