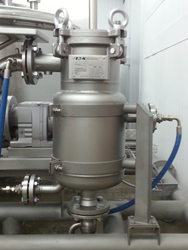 At the very outset of this project AFS have worked as a trusted partner to our team. They sought to understand our requirement before tailoring a high quality solution that would meet our exact needs.
(PRWEB UK) 8 July 2014
AFS's brief was to design and deliver a special chocolate filter to help Kinnerton meet stringent standards set by the British Retail Consortium (BRC).
The solution filters an average of two cubic meters of chocolate per hour and was delivered complete with replaceable 1000 micron stainless steel mesh basket filters. Because the coarse chocolate is cut into fine powder during the production process, a gauze magnet is contained within the filter to remove any metal particulate which may remain.
Mike Gee, Engineering Manager at Kinnerton, said:
"At the very outset of this project AFS have worked as a trusted partner to our team. They sought to understand our requirement before tailoring a high quality solution that would meet our exact needs. As a result, our manufacturing process is much more robust."