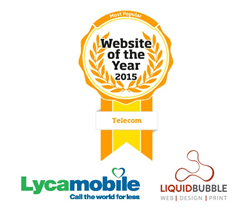 It's great to receive such prestigious acknowledgement for one of our client's websites.
(PRWEB UK) 3 December 2015
Liquid Bubble, leading creative design and web agency in London, are proud to celebrate the success of the website which they built for Lycamobile. The Lycamobile website has been awarded the 'Most Popular Website of the Year' honour in the Telecom category at the annually-held Website of the Year Awards ceremony.
The Website of the Year Awards is Britain's premier people's choice award for websites. Each website is rated and scored by the public based on content, navigation, design and recommendation intention, with each category offering two prizes; both the 'Best Website of the Year' – which is awarded to the site with the best average score – and the 'Most Popular', which is given to the one with the most votes.
The competition saw 227 websites nominated across the 19 categories with over 119,000 votes cast over all groups. Beating off competition from O2, winning the 'Most Popular Website' award has ranked Lycamobile's Liquid Bubble-designed website alongside those of other internationally renowned companies, such as Coca Cola, Apple and even Wikipedia.
You can view Lycamobile's website at http://www.lycamobile.co.uk and the full results of the Website of the Year awards at http://www.websiteoftheyear.co.uk
Lycamobile are a mobile virtual network operator, providing their international phone call service to 18 countries, including the UK where they are based. Liquid Bubble both designed and developed each of the Lycamobile websites for the 18 countries across which their service spans. A Liquid Bubble client since 2011, Lycamobile were the first to market in the telecom sector with a responsive website, with Liquid Bubble striving to meet the defined, tight timeline upon its release. The Liquid Bubble team constantly worked to implement and improve user experience and interaction, with several in-house teams, as well as teams around the globe, working alongside each other to ensure that the website was rolled out successfully.
When asked why the Lycamobile website has been so successful, Pritesh Ghelani, Liquid Bubble's Head of Online, stated: "Lycamobile have a fantastic focus on generating and drawing in traffic online to their website. It was our job to make sure that when that traffic arrived, they were met with an ergonomic and easy to navigate website, optimised for their specific customer's experience."
"We went up against some large names and fierce competition, which is true credit to the hard work carried out by each and every member of our Liquid Bubble team, not just on the Lycamobile build, but for each of our clients. It's great to receive such prestigious acknowledgement for one of our client's websites, particularly alongside such international giants."
London-based web agency Liquid Bubble offer leading creative web design and development, creative graphic design, digital and litho printing, digital marketing, exhibition and signage as well as CD and DVD duplication. With over 10 years experience in each of these fields, Liquid Bubble are at the technological forefront, delivering dedicated and cutting edge solutions to each of their clients. With a particular focus on developing long-term relationships, the friendly and vibrant team at Liquid Bubble utilise their creative skills to ensure all website and marketing material is not only optimised and practical, but delivers results time after time.
For further information on Liquid Bubble and their services, please visit their website at: http://www.liquidbubble.co.uk