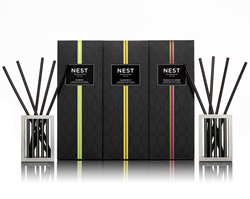 With the introduction of our sophisticated new Liquidless Diffuser, we continue to deliver on our promise to be a fragrance-forward brand by offering our consumers an additional, innovative way to scent their homes.
New York, NY (PRWEB) April 27, 2017
NEST Fragrances, a leading designer and manufacturer of exceptionally crafted home and fine fragrances, today announced the launch of its new Liquidless Diffuser™, an innovative, maintenance-free luxury home fragrance product. Featuring scented sticks (ScentSticks™) fashioned from sustainably sourced paper and infused with pure fragrance oil, the Liquidless Diffuser debuts in May in three of NEST Fragrances' most beloved home scents: Bamboo, Grapefruit and Moroccan Amber.
"As a fragrance industry leader, we are not only committed to launching extraordinary, high-quality fragrances but also bringing exciting new product innovation to the luxury market," said Nancy McKay, CEO of NEST Fragrances. "With the introduction of our sophisticated new Liquidless Diffuser in three of our most popular, iconic home fragrances, we continue to deliver on our promise to be a fragrance-forward brand by offering our consumers an additional, innovative way to scent their homes."
Spill-proof and virtually maintenance-free, the Liquidless Diffuser provides a customizable fragrance experience for approximately 90 days. Each Liquidless Diffuser comes with five biodegradable and compostable ScentSticks and a custom-made, open-air metal base designed to promote continuous airflow and scent diffusion. Fragrance strength can be tailored based on room size or user preference by adjusting the number of ScentSticks placed into the decorative base. Each individual scented stick releases fragrance for up to 30 days.
The Liquidless Diffuser is available for $60 (SRP) in the following NEST Fragrances home scents: Bamboo (floral bouquet) - flowering bamboo is mingled with a variety of white florals, sparkling citrus, and fresh green accords; Grapefruit (fresh citrus) - pink pomelo grapefruit and watery nuances are blended with lily of the valley and coriander blossom; Moroccan Amber (exotic amber) - Moroccan amber, sweet patchouli, heliotrope and bergamot are accented with a hint of eucalyptus.
In addition to these fragrances, ScentSticks refills for the Liquidless Diffuser will be available beginning in mid-June for $34 (SRP) in the following top-selling NEST Fragrances home scents: Cedar Leaf & Lavender, Ocean Mist & Sea Salt, and Sicilian Tangerine. The Liquidless Diffuser base is designed to hold ScentSticks in any fragrance; it will not retain the scent of any one individual fragrance.
The Liquidless Diffuser is currently available for purchase at NESTFragrances.com and will be available for purchase in the U.S. beginning the first week of May at select specialty boutique stores and the following specialty department stores (brick-and-mortar and online): Bloomingdale's, Bluemercury, Neiman Marcus, Nordstrom, and Saks Fifth Avenue. To find a store that sells NEST Fragrances products, visit Store Locator at NESTfragrances.com.
To learn more about the new Liquidless Diffuser, follow NEST Fragrances on social media using the handle @NESTFragrances on Instagram, Facebook, Pinterest and Twitter, and use #NESTGoesLiquidless.
About NEST Fragrances
NEST Fragrances is a leading designer, manufacturer and marketer of luxury fragrances for the bath, body and home. Founded in 2005 in New York City by fragrance authority Laura Slatkin, today NEST Fragrances produces more than 20 home fragrance collections consisting of luxury scented candles in several sizes, reed diffusers, liquid soap and hand lotion, and, now, the new Liquidless Diffsuer. In 2013, the company launched the NEST Fine Fragrances Collection, which today consists of eight fragrances available in eau de parfum sprays and roller balls and luxury body cream. NEST Fragrances products are sold primarily in North America through a growing wholesale customer network of luxury specialty department stores, beauty product stores, boutique stores and spas, and the company's online flagship store NESTFragrances.com.
# # #