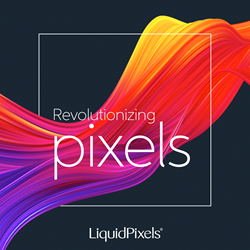 Everyone in e-commerce knows we the gold standard for dynamic imaging solutions. Now, our branding reflects that.
ROCHESTER, N.Y. (PRWEB) May 23, 2019
LiquidPixels, Inc., announced today the launch of an entirely refreshed brand identity. The enhanced brand signifies a new era for the digital imaging solutions pioneer.
LiquidPixels strives to more thoughtfully connect with their audience when it comes to developing powerful dynamic imaging solutions for the e-commerce industry. Insights gained through this discovery process led to a robust reimagining of the LiquidPixels brand.
The new visual identity for LiquidPixels reflects:

Its values as an organization to create groundbreaking digital imaging technology.
An evolution of the brand treatment inspired by stunning visual elements.
Utilization of its own imagery solutions to convey its message.
"As a company, we have evolved so much over the past 19 years," said Sarah Flynn, Director of Marketing. "Our rebranding is a major milestone in a multi-year initiative to elevate our market presence. Our new look is statement on our solutions, our expertise, and most importantly, who we are as a company. We are very proud of this achievement. Creatively, this is a major leap forward."
In addition to the rejuvenated brand, LiquidPixels also introduced new iconography for its core solutions, including LiquiFire® Operating System (OS), LiquiFire OS Blaze™, and LiquiFire OS Zap™.
"We redesigned the logos to reflect the intricacy of our solutions," stated Flynn. "Our technology is multi-dimensional, can perform incredibly complex tasks, but remains straightforward and easy to use."
The new brand visuals are already in place on the LiquidPixels website. Additional creative elements will be added on a rolling basis for the remainder of 2019 and will culminate in 2020 for the company's twentieth anniversary.
"Everyone in e-commerce knows our solutions," continued Flynn. "They know we are the gold standard for dynamic imaging. Now, our branding reflects that."
About LiquidPixels
LiquidPixels leads the imaging revolution. Built on open standards, our LiquiFire Dynamic Imaging Solutions integrate into existing Web and workflow environments, enhancing product creation and visualization while reducing production costs. Founded in 2000, LiquidPixels makes its patented technology available as a hosted service or via on-site enterprise servers with solutions that may be tailored to each of our customers' unique needs. For more information, visit us at LiquidPixels.com.
© 2019 LiquidPixels Inc. All rights reserved.
Contact: Bruce G. Owens, Jr.
Email: sales(at)liquidpixels(dot)com
Phone: 866-808-4937 (x301)