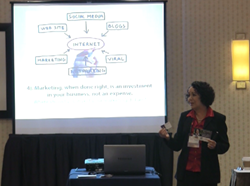 "We selected Lisa for this Elite Speakers training group because she is intelligent, knowledgeable about her subject matter, and coachable," said Suzanne Evans
Atlanta, GA (PRWEB) April 01, 2016
Lisa C. Decker, Certified Divorce Financial Analyst (CDFA) and CEO of Divorce Money Matters and DivorceTown® USA was hand-selected from a pool of hundreds of professionals to have the opportunity to work directly one-on-one with TV personality and International Speaker Hall of Fame recipient as well as six time NYT/WS best-selling author, Larry Winget, along with top business coach, Suzanne Evans who is notable for making the INC 500/5000 list four years in a row and went from being a secretary to making six million dollars in just six years.
"We selected Lisa for this Elite Speakers training group because she is intelligent, knowledgeable about her subject matter, and coachable," said Suzanne Evans when asked why Ms. Decker was the first person selected for this elite group.
Ms. Decker is working toward attaining the Master Speaker certification offered through the SPEAK training program taught by best-selling authors, speakers, trainers and coaches – Larry Winget, Speakers Hall of Fame recipient, and Suzanne Evans, one of the country's top business coaches.
"I'm very honored and incredibly excited to be selected to work with these two masterful and successful teachers. I've spoken for many years on a variety of subject matters, but I'm at a point in my life where I have a bigger message to share and I want to help impact more people with inspiration and motivation to take care of their "issues" so they don't pass them on for posterity," stated Lisa, who is broadening her reach to help others understand the impact procrastination takes in their lives. "I believe procrastination causes more drama, trauma, and dollars lost in your life!"
Ms. Decker is a nearly 20 year breast cancer survivor and lectured on a breast cancer prevention program which she designed, developed, implement and taught to over 20,000 people prior to her work as a CDFA. Additionally she also co-owned a construction-related business during that same time and spoke on issues applicable to that industry. After moving from South Florida to the metro Atlanta area in 2005, she embarked on a new chapter of her life transitioning from health to wealth matters after being recruited into an international financial services firm which ultimately led her to her current focus of divorce financial planning.
In her CDFA practice she provides services to both men and women individually, but she most enjoys working with couples looking for a saner, savvier, money-saving way to divorce. By offering pre-divorce financial planning through unique flat-fee services she is attracting people who are looking for sane, sensible, money-saving options in getting to resolution.
In addition, through her new online community, DivorceTown®USA.com, Lisa hosts are a variety of events designed to bring professionals and potential clients together in online and offline communities and events so families transitioning thru divorce can get the best outcome possible for their finances, their families and their futures, ultimately seeking to "Improve the way America divorces, one family at a time™."
To reach Ms. Decker regarding speaking engagements send an email to support(at)divorcemoneymatters(dot)com or call 866-722-7226.
About Lisa Decker:
Lisa C. Decker, Certified Divorce Financial Analyst, is a discreet problem-solver as she helps clients move from confusion to clarity in their divorce guiding them step-by-step from contemplation through completion. A nationally recognized expert in the financial matters of divorce and author of the new book, How to "Divorce Your Spouse, Not Your Money® (available on amazon Kindle), Ms. Decker is a sought out speaker, frequent radio show guest and featured expert on ABC, NBC, and FOX affiliates nationally, along with CNBC.com, ForbesWomen.com, NY Times, Business Week, MONEY and Oprah magazines speaking on topics that help people to be smart from the start and have saner, savvier, money-saving divorces. For more information, call 866-722-7226 or visit her website to receive her FREE Resources at w ww.DivorceMoneyMatters.com and http://www.DivorceTownUSA.com