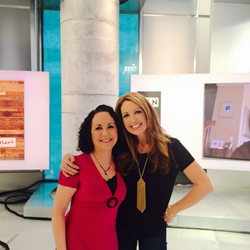 The most common thing I hear people say is, 'I want it over with quickly,' and that can be a big mistake...
Atlanta, GA (PRWEB) March 31, 2015
According to Findlaw.com, there's a spike in people searching for divorce advice that begins in January and finally peaks in the month of March when the most divorce filings happen.
Lisa C. Decker, Certified Divorce Financial Analyst (CDFA), Real Estate Collaboration Specialist in Divorce (RCS-D) and Founder and CEO of Divorce Money Matters and DivorceTown® USA recently appeared on CNN's Headline News program - The Daily Share, speaking about divorce disasters and how to avoid them.
When asked by CNN Anchor, Christ Paul, what are the top two things people can do to protect themselves, Lisa shared two tips from her S.M.A.R.T. START Formula:
"#1. Start Early – Divorce is a process not an event. The most common thing I hear people say is, 'I want it over with quickly,' and that can be a big mistake because you don't want to hurry through it, you need to give your team time to get it done right for you. You also don't want to put your head in the sand and drag it out longer than it needs to be."
She went on to add, "#2. Assess your options – If you see yourself having an amicable divorce you may be able to stay on Peaceful Place and Savings Lane, but it you're headed for divorce court then you are probably looking at Bigger Bucks Blvd. and Duke-It-Out Drive" which refers to the Divorce Road Map Ms. Decker created for her online community at http://www.DivorceTownUSA.com.
Ms. Paul also asked what one of the biggest financial mistakes are in divorce to which Lisa replied, Not divorcing your joint debts…creditors are not bound by the terms of your settlement agreement…divorce your mortgages, car loans and credit cards too."
A nationally recognized expert in the financial matters of divorce and author of How to "Divorce Your Spouse, Not Your Money®", Ms. Decker is a sought out speaker, frequent radio show guest and featured expert on ABC, NBC, CBS, FOX and CW affiliates nationally, along with CNBC.com, ForbesWomen.com, Wall Street Journal, NY Times, Business Week, and Oprah magazines speaking on topics that help people to be smart from the start and have saner, savvier, money-saving divorces.
This month she was also featured in the March 2015 issue of MONEY magazine about insights on "What to Do Before Filing for Divorce."
In addition, through her new online community, DivorceTown®USA.com, Lisa hosts are a variety of events designed to bring professionals and potential clients together in online and offline communities and events so families transitioning thru divorce can get the best outcome possible for their finances, their families and their futures. This is what drives her personal mission to "Improve the way America divorces, one family at a time™."