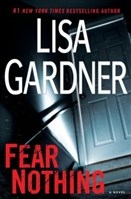 "If you think Gardner pulled out all the stops in D.D.'s previous cases (Catch Me, 2012, etc.), you ain't seen nothing yet. Better fasten your seat belt for this roller-coaster ride through family hell." - Starred Review - Kirkus Review
Portland, OR (PRWEB) January 10, 2014
Lisa Gardner, a #1 New York Times crime thriller novelist, is online bookseller, VJ Books, Author of the Month.
"Lisa grew up in Oregon, and we are pleased that her work is getting the recognition it deserves. Her mysteries are crisp, taunt thrillers that deliver every time. I can't wait to read this one!" reports John Hutchinson, owner, VJ Books, specializing in signed and collectible mysteries, science fiction, adventure and horror titles.
Lisa began her career in food service, but after catching her hair on fire numerous times, she took the hint and focused on writing instead. A self-described research junkie, her work as a research analyst for an international consulting firm parlayed her interest in police procedure, cutting edge forensics and twisted plots into a streak of internationally bestselling suspense novels.
With over 22 million books in print, Lisa is published in 30 countries. Her success crosses into the small screen with four of her novels becoming movies and personal appearances on television shows.
Lisa Gardner's novels have also received awards from across the globe. Her novel, The Neighbor, was recognized as the Best Hardcover Novel from the International Thriller Writers in the United States and Grand Prix des lectrices de Elle, prix du policier in France. She was also recognized with the Daphne duMaurior Award presented by RWA in 2000 for The Other Daughter.
Lisa lives in New Hampshire with her auto-racing husband and black-diamond skiing daughter. She spends her days writing in her loft with two barky shelties and one silly puppy. Her website http://lisagardner.com has numerous videos and book reviews.
About "Fear Nothing"
DD Warren returns in a tale of two sisters, one a successful doctor who can't feel pain, the other already incarcerated for multiple murders. Daughters of infamous serial killer Harry Day, their separate worlds are about to collide as they work with DD to catch a predator copying their late father's murders.
Praise for:
"Lisa Gardner delivers an intelligent, sophisticated, psychological thriller in her latest installment "Fear Nothing"... Gardner continues to show why she is on the short list of top thriller writers today."

"Gardner has become one of the best psychological thriller writers in the business. The compelling characters, the shocking plot and the realistic atmosphere of how police operate make this a "must read" for any suspense aficionado."
— Associated Press on Catch Me
VJ Books is offering autographed copies of Fear Nothing, as well as many other signed title by Lisa Gardner, many at special "Author of the Month" pricing.
About VJ Books
VJ Books has specialized in signed and collectible modern fiction for nearly 20 years. Each month VJ Books' customers are able to choose from dozens of autographed books from some of the most exciting, highly acclaimed authors in the areas of mystery, suspense, science fiction and modern literature. Additionally, they continue to offer an impressive selection of back list, rare, out-of-print, and special edition titles.
Contact:
Virginia Lenneville
marketing(at)vjbooks(dot)com
Facebook: vjbooks
Twitter: vjbooks