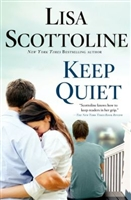 Scottoline keeps the tension high while portraying a family in turmoil. A heck of a twist ending wraps everything up...a satisfying and suspenseful read. - Booklist
Portland, OR (PRWEB) April 01, 2014
The New York Times bestselling author Lisa Scottoline is the Edgar award-winning author of 22 novels, including her latest, KEEP QUIET. Her emotional thrillers are filled with down-to-earth characters that resonate with readers. Her newest title Keep Quiet is no exception.
Among her many accolades, Lisa writes a weekly column with her daughter Francesca Serritella for the Philadelphia Inquirer titled "Chick Wit." She has served as President of Mystery Writers of America and has taught a course she developed titled "Justice and Fiction" at The University of Pennsylvania Law School, her alma mater.
"We have enjoyed offering Lisa's books for over 15 years, and it is hard to "Keep Quiet" about her new book," says John Hutchinson of VJ Books, "a top notch thriller that keeps you guessing to the last few pages."
Lisa is chosen as VJ Books' Author of the Month for April. She lives in Philadelphia with her menagerie of pets.
Synopsis for Keep Quiet:
New York Times bestselling and Edgar Award winning author Lisa Scottoline is loved by millions of readers for her suspenseful novels about family and justice. Scottoline delivers once again with Keep Quiet, an emotionally gripping and complex story about one man's split-second decision to protect his son - and the devastating consequences that follow.
Jake Buckman's relationship with his sixteen-year-old son Ryan is not an easy one, so at the urging of his loving wife, Pam, Jake goes alone to pick up Ryan at their suburban movie theater. On the way home, Ryan asks to drive on a deserted road, and Jake sees it as a chance to make a connection. However, what starts as a father-son bonding opportunity instantly turns into a nightmare. Tragedy strikes, and with Ryan's entire future hanging in the balance, Jake is forced to make a split-second decision that plunges them both into a world of guilt and lies. Without ever meaning to, Jake and Ryan find themselves living under the crushing weight of their secret, which threatens to tear their family to shreds and ruin them all. Powerful and dramatic, Keep Quiet will have readers and book clubs debating what it means to be a parent and how far you can, and should, go to protect those you love.
Audio Link - Chapter 1 - Keep Quiet by Lisa Scottoline
Praise for Lisa Scottoline:
"Lisa Scottoline is one of the very best writers at work today." —Michael Connelly
Readers will fall in love with this powerfully addictive story will haunt them long after the final page." —Library Journal on Don't Go
"Scottoline knows how to keep readers in her grip." —The New York Times Book Review
"You're in the hands of a pro with Scottoline." —The Boston Globe
"Scottoline is a star." —Time
"Scottoline is a powerhouse." —David Baldacci
VJ Books has specialized in signed and collectible modern fiction for nearly 20 years. Each month, VJ Books' customers are able to choose from dozens of autographed books from some of the most exciting, highly acclaimed authors in the areas of mystery, suspense, science fiction and modern literature. Additionally, they continue to offer an impressive selection of back list, rare, out-of-print, and special edition titles.
Contact:
Virginia Lenneville
marketing(at)vjbooks(dot)com
Facebook: vjbooks
Twitter: vjbooks