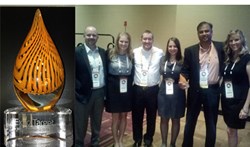 Winning this award is an endorsement of our dedication to Digital Marketing - Said Altaf Shaikh
Boston, MA (PRWEB) October 24, 2013
ExactTarget has selected ListEngage for "Global Services Partner Award" at ExactTarget Connections 2013 annual conference. This is the highest award presented to ExactTarget Partners.
While presenting the award, Danielle du Toit - Director, Global Centre of Services Excellence at ExactTarget stated "List Engage was selected as the recipient for the Services Partner Award at Connections 2013 for their hard work, their commitment to the Orange Partner Network and their dedication to embodying ExactTarget's Core Values. List Engage consultants are easy to do business with and have consistent high client satisfaction ratings."
ExactTarget – Email & 1:1 Marketing Leader
ExactTarget is the trusted leader in email and 1:1 marketing with 12 years of innovation. Forrester Research, Inc. describes ExactTarget as the "strongest current offering." ExactTarget is committed to servicing their clients through the partner channel and ListEngage's commitment to ExactTarget's Partner Network is unwavering.
"Winning this award is an endorsement of our dedication to Digital Marketing." Said Altaf Shaikh, Founder and CEO of ListEngage. "I want to take this opportunity to thank each and every member of our hard working and talented team. We truly are experts in all facets of digital marketing and the ExactTarget platform, and as a result have helped hundreds of clients maximize their investment in ExactTarget. Last but not least, the work we do on a daily basis is possible due to the superb resources of ExactTarget's services and channel team members. Our close relationship with ExactTarget truly makes us a direct extension of their team."
ListEngage – Certified ExactTarget Partner With Deep Technical and Marketing Expertise
ListEngage is a full-service internet marketing company that helps organizations realize significantly higher ROI by having a laser sharp focus on our client's email, mobile and social media marketing programs. ListEngage is a certified ExactTarget partner of nine (9) years and has been helping clients transition from inefficient, ineffective broadcast campaigns to targeted and successful 1:1 communications.
ListEngage
5 Edgell Road #31
Framingham, MA - 01701-4868