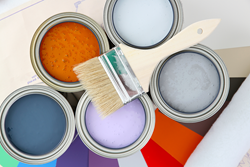 Whites and similar neutrals let potential buyers imagine their style, not yours.
HOUSTON, Texas (PRWEB) July 28, 2016
When it comes to staging a home to sell, for sale by owner (FSBO) leader ListingDoor.com seeks out design ideas and trends from a variety of sources, including Pinterest, home design publications and websites, and more to provide staging ideas to attract buyers.
In a new blog titled, "Top 10-Plus Paint colors for Dressing Up Your Home for an FSBO sale," ListingDoor.com co-founder Sissy Lappin reveals 2016's top interior paint colors for home staging in 2016.
Staging is one of the most important elements in selling a home, and design experts who work in real estate know that choosing the right paint colors is an affordable and effective way to dramatically impact a home's appearance. Paint can freshen up every room in the house and wow buyers when the color palette is trendy and has wide appeal among buyers.
In 2016, the most popular paint colors are both muted and bold, according to Lappin. Clear winners include the off-whites, light grays, intense jewel tones, muted earth tones, and pastels.
Whites and grays get the nod for neutral shades. Benjamin Moore's color palette trends web page shows seven shades of white, with pretty names like "Paper White," "Ice Mist," "Simply White," "Mascarpone," "Ballet White," and "White Heaven" from a collection of more than 250 whites. The company picked "Simply White" as their color of the year. Sherwin Williams chose "Alabaster White." Behr's pick was "Ivory Keys White," Glidden focused on a creamy "Cappuccino White," and Houzz's on-trend pick is the off-whites in general.
According to Lappin's blog, published July 26, 2016, white and shades of white are traditional favorites among home sellers, as they maximize space.
"Whites are light, clean, and make spaces appear larger," Lappin says. "They won't distract buyers with someone else's style. Whites and similar neutrals let potential buyers imagine their style, not yours."
Some homeowners are expanding their spaces even more by painting moldings the same color as the wall to give the illusion of higher walls. Plus, white offers possibilities. It gives buyers some room to be creative without having to repaint the entire house, such as applying a trim in a favorite color to give the house a personal touch.
Gray has become popular over the last few years and is still going strong. Decorators like it for its ability to add sophistication to urban spaces. Darker shades of gray can make a bold statement or enhance sleek modern and colorful furnishings and accents.
In more traditional homes, light grays bring out a feeling of coolness, similar to the calming effects of blue. Gray is especially appealing in bedrooms and living areas.
Other popular neutrals based on gray this year are colors taken from natural materials: alabaster, marble, warm grays, khaki. These shades make one think of sand, nomads, and a desert oasis. They can work in many situations including bathrooms.
Earth tones are enjoying a renewed appeal in many homes this year as well. They're warm, inviting, and relaxing with their flat, muted tones. Earth tones work well with most other colors and complement rooms with a lot of wood, stone, metal or glass. Living and dining rooms are good places to use soothing earth tone colors, which include not only browns, grays, and tans, but greens, blues, oranges, and some reds.
Primary colors are trending too, particularly jewel tones like ambers, sapphires, rubies, emeralds and amethysts for warmth, depth, and saturation. House and Home chose "Emerald Green" as its color of the year, but according to Lappin it is best used sparingly, in small spaces. Green can be cheery and cozy in a room with white trim. Deeper shades of green complement natural stained or finished cabinets in the kitchen or a sitting room.
The dining room has been experiencing a revival due to the fact that more people are staying at home to eat, cook, and entertain. Behr recommends dark colors for dining areas to create the illusion of depth, with pops of tropical colors to stimulate the senses.
According to House Beautiful, the 10 hottest paint colors are muted shades of blue, gray, purple, and green:

"Aqua Chiffon," for freshness
"Oceanside Teal Blue," mysterious and sultry
"Cathedral Gray," for a natural wood and linen feel
"Forsythia Blossom," a high-energy yellow
"Organic Garden," a balance between a warm and cool gray
"Grape Hyacinth," a gray purple that's soft but not intense
"Clear Blue Sky," clean and airy
"Cedar Green," restful, balanced, and goes with anything
"Turquoise," a sparkling hue like the sun on water
"Sea Kiss," a watercolor, refreshing and airy
"The best approach is to plan your palette and apply any of these beautiful shades so they bring out the best in each room of your home, and complement your furnishings and accents," Lappin says. "Buyers will take notice and be impressed."
For more tips on home staging for the FSBO seller, visit the ListingDoor website, email Amy(at)listingdoor(dot)com or call 713-306-9104.
About ListingDoor.com:
Founded in 2012 by husband and wife realtors Sissy and Mark Lappin, ListingDoor.com is a website showcasing the Lappins' innovative FSBO strategies and making them available to the public. ListingDoor.com earned recognition from Forbes Magazine in Dec. 2014 when it was named a top contender to become "The Next Uber" for real estate sales.
ListingDoor.com aims to set new standards for the real estate industry by providing a smart, cost-effective alternative to traditional home sale strategies that allow homeowners to decide on the best approach for selling their homes.
Although FSBO is not new to the American real estate landscape, ListingDoor.com provides the tools and strategies to help individual homeowners save tens of thousands of dollars in commissions and fees by selling their own homes and sidestepping realtor commission fees.
Veteran real estate broker, author, and "for sale by owner" (FSBO) champion Sissy Lappin introduced her "simple and sold" philosophy of real estate innovation to help homeowners master the art of selling their homes without a realtor. Her groundbreaking FSBO guidebook, "Simple and SOLD," first published in 2012, achieved #1 best seller status on Amazon.com with more than 15,800 copies downloaded in ebook form. Lappin is the founder of Lappin Properties, one of Houston's most successful real estate brokerage firms. She earned her claim to national fame with the publication of "Simple and SOLD."
###