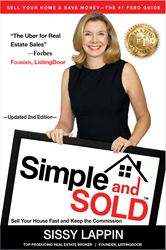 You don't need experience. You just need a good dose of common sense.
HOUSTON, Texas (PRWEB) August 29, 2016
Houston real estate powerhouse and author Sissy Lappin announced that her For Sale By Owner (FSBO) book titled, "Simple and SOLD" has achieved #1 bestseller status on Amazon.com. The top-selling Houston realtor and advocate for helping people with little or no real estate experience learn how to effectively sell their own homes and keep agent commissions in their own pockets, wrote the guidebook with first-time sellers in mind.
After helping a financially strapped friend learn how to save money on agent fees and get out from under a mortgage that she could no longer afford by selling her home herself using FSBO strategies, Lappin was motivated to put her knowledge and skills in print to help others achieve the same goal.
"Simple and SOLD," written in narrative form, is a practical, easy-to-follow guidebook that includes critical tips and advice on utilizing technology and low-to-no-cost marketing strategies to gain visibility among home buyers. The book is packed with matter-of-fact home selling advice and wisdom gleaned from Lappin's own experiences to guide readers step-by-step through the process of selling their own home and coming away with money left over—typically a six percent fee that would have been the agent's commission.
The book covers practical issues that every FSBO first-timer needs to know, such as:

How to determine the market value of their home
How to price a home for buyer appeal
Marketing basics for attracting motivated home buyers
Basics on showing a home like a professional
Staging and organizing the home for maximum appeal to buyers
Negotiating and countering buyer offers with confidence
Managing the paperwork without feeling overwhelmed
Handling home inspections
Closing—avoiding trouble and completing this crucial last step smoothly
Lappin, a five-star rated realtor whose home sales reached more than $500 million during her 20-plus year real estate career, began selling homes during a recession and continued through two housing bubbles. She says anyone can sell their own home without enlisting a real estate agent, even if they have no real estate experience.
"You don't need experience," Lappin says. "You just need a good dose of common sense."
"Simple and SOLD" has logged more than 20,000 downloads as an ebook on Amazon.com, and garnered additional sales in hardcover and paperback editions. Downloads are available at no cost on the Amazon website.
Lappin recently launched a second edition of "Simple and SOLD" as a Kindle release, this one subtitled "Sell Your House Fast and Keep the Commission: Sell Your Home & Save Money —The Definitive FSBO Guide."
Lappin's book engages readers and empowers them to succeed as independent sellers. In addition to providing expert advice, she encourages readers embrace the many resources Internet technology has to offer as a leveler in the real estate playing field. Real estate professionals have depended on Internet resources for more than a decade, and they are the first to acknowledge that today's technology has changed the way residential homes are sold.
Some of the tools Lappin recommends include high-end customized yard signs and brochures which she makes available through her ListingDoor.com website, in addition to the latest 21st-century tech applications like clickable access to extensive information databases, fine-tuned market reports, user-friendly websites and social media marketing campaigns. Lappin, like most realtors, takes full advantage of these tools.
Lappin is the founder of ListingDoor.com, a web-based company that gives home owners step-by-step FSBO instructions and customized tools, and acts as a natural extension of her book.
"The book is the guide; the website ListingDoor.com has the tools," Lappin says.
To learn more about Lappin's approach to the FSBO market and her book "Simple and SOLD," visit the Listing Door website, email info at)listingdoor(dot)com or call 713- 922-0602.
To purchase or download Lappin's book at no cost, visit the "Simple and SOLD" web page on Amazon.com.
About Sissy Lappin:
Veteran real estate broker, author, and "for sale by owner" (FSBO) champion Sissy Lappin introduced her "simple and sold" philosophy of real estate innovation to help homeowners master the art of selling their homes without a realtor. Her groundbreaking FSBO guidebook, "Simple and SOLD," first published in 2012, achieved #1 best seller status on Amazon.com with more than 20,000 copies downloaded in ebook form. Lappin is the founder of Lappin Properties, one of Houston's most successful real estate brokerage firms. She earned her claim to national fame with the publication of "Simple and SOLD."
Although FSBO is not new to the American real estate landscape, Lappin's "Simple and SOLD" guidebook breathes new life into the strategy that helps individual homeowners save tens of thousands of dollars in commissions and fees by selling their homes and sidestepping realtor commission fees.
About ListingDoor.com:
Founded in 2014 by Sissy Lappin, ListingDoor.com is a website that showcases Lappin's innovative FSBO strategies and makes them available to the public. ListingDoor.com earned recognition from Forbes Magazine in Dec. 2014 when it was named a top contender to become "The Next Uber" for real estate sales.
ListingDoor.com aims to set new standards for the real estate industry by providing a smart, cost-effective alternatives to traditional home sale strategies that allow homeowners to decide on the best approach for selling their homes.
###