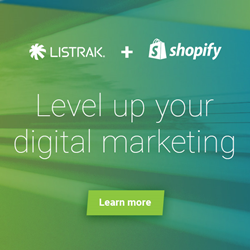 "Whether you're a retailer who wants – or needs – to make a transition, this program is a great way to level up your digital marketing strategy with a partner who has unmatched retail expertise."
PHILADELPHIA (PRWEB) April 16, 2019
Listrak, the industry-leading marketing cloud focused solely on retailers, today announced the launch of its Accelerated Mailchimp Migration Program, a special offer targeted to current Mailchimp and Shopify customers affected by the recent partnership termination. New customers will be eligible for a 30% discount off list rates and free implementation by signing up for the program before April 30, 2019.
"The Listrak digital marketing platform enables retailers to engage with their customers across channels and devices, including mobile and social - not just email," explains Listrak CEO Ross Kramer. "Listrak is a trusted partner for over a thousand retailers and CMOs, thanks to our ability to deliver incremental revenue, lifetime value and significant business outcomes for our customers. The Listrak platform – fueled by artificial intelligence, machine-based learning and predictive analytics – enables marketers to leverage data and insights, and empowers them to deliver a personalized customer experience. Whether you're a retailer who wants – or needs – to make a transition, this program is a great way to level up your digital marketing strategy with a partner who has unmatched retail expertise."
Once a retailer has signed on to the program, they simply need to follow Listrak's step-by-step setup process. Listrak also offers direct sync for real-time product and order data sharing, along with historical order data migration.
Kramer notes that the company has invested significant resources to support Listrak partnerships. "Our internal resources will guide you through the transition and offer ongoing support. We also stay up-to-date on Shopify's current features and impending upgrades."
Restrictions apply. Click here for more information, to view a demo video, or to join the Accelerated Mailchimp Migration Program.
Known for its customer-focused, results-oriented vision, Listrak has tripled in size as a company in the past five years, both in revenues and employees. The company's client roster includes Kendra Scott, goop, Spanx, Oscar de la Renta, bluemercury and Le Creuset, to name a few.
"With Listrak's Shopify integration, you'll experience a simplified setup process, and be up and running to send emails quickly," adds Kramer, "but If you want to build a program that goes well beyond email, we're here to help you grow your business, keep your customers happy, and deliver real results."
About Listrak
As an industry-leading marketing cloud focused solely on retailers, Listrak delivers results for its clients with the power of 1:1 interactions that drive incremental revenue, engagement, lifetime value and growth. Fueled by artificial intelligence, actual human intelligence, machine learning and predictive analytics, the Listrak platform boasts a comprehensive set of marketing automation and CRM solutions that unify, interpret and personalize data to engage customers across channels and devices. Listrak has nearly two decades of digital marketing experience, serves more than 1,000 clients, and works with leading brands. For more information, visit http://www.listrak.com.