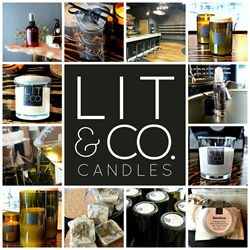 Our Oakmoss soy travel candle offers a unisex scent with universal appeal.
Boise, Idaho (PRWEB) September 08, 2015
Boise, Idaho-based Lit & Co. Candles (http://www.litandco.com), in association with The Artisan Group®, will gift its all-natural, scented soy travel candles to celebrities attending GBK's 2015 Pre-Primetime Emmys Celebrity Gift Lounge. In addition, a selection of creatively displayed soy candles in upscale fragrances like Oakmoss, Pacific Teakwood and Blood Orange + Goji will be showcased at the Artisan Group's exhibit. The Gift Lounge takes place September 18-19, 2015 at an exclusive location in Beverly Hills, California.
The 8-oz. travel candles are handcrafted using pure fragrance, cotton braided wicks and 100% pure soybean wax made with botanical oils. The phthalate-free candles have a clean, 45-hour burn time and are poured into tin containers that can be refilled multiple times to encourage recycling. Gifted scents include Oakmoss, Pacific Teakwood and Blood Orange + Goji, among others.
Recipients will find their scented travel candle thoughtfully packaged in a branded linen bag with a Lit & Co. "Candle Care Card" and a pack of matches. Lit & Co. Travel Candle are available to purchase at LitandCo.com and retail for $12.50.
"Celebrities will be receiving candles in some of our most popular fragrances," remarked owner Lit & Co. owner Kristen Jackson. "Oakmoss is one of my favorites. It's a unisex scent with universal appeal – rich and woody with a musk base topped with herbs and amber. To make it even more luxurious, the fragrance oil is infused with natural sage, lavandin and orange essential oils."
The candles on display will show off some of Lit & Co. Candles' unique container options, including customer favorite, the recycled wine bottle jar candle with cork top.
"I'm excited about the wine bottle jar container. It's not only beautiful but the bottles are cut, processed and polished by a local organization that works with individuals who have employment barriers like homelessness and addiction, or they may be refugees, seniors or at-risk youth," says Kristen. "I enjoy supporting an organization that teaches valuable skills that help people re-enter the work force."
Lit & Co. Candles maintains the Lit & Co. Home Fragrance Bar in historic downtown BoDo, the heart of downtown Boise, where all of its 60+ scents are ready for purchase and where customers can mix up to three scents to create their own custom candles, reed diffusers wax tarts or room sprays.
Lit & Co. candles are also sold at Hyde Park Street Fair and over 75 boutiques, salons, galleries and shop in the United States, Canada and Australia.
Kristen is a former corporate retail professional who turned to a career in home fragrance in 2013. She is inspired to create new candle fragrances, such as Cranberry + Clove, Sweet Potato + Brown Sugar, Pine Cone and Falling Leaves, by home décor and seasonal trends, as well as the local craft beer scene. The company's Cascade Hops Candle pays homage to the industry and has been a best-seller since its inception.
It's not all about spending time in the candle kitchen, however. This successful chandler notes that owning a home fragrance company located in downtown Boise has come with a few unexpected perks. The Fragrance Bar is close to a popular music venue that hosts national and international recording artists, so it is not unusual to have well-known music industry personalities, from a world-famous rapper with his entourage to the lead singer of a very popular band, stop by to replenish their candle supply. "It's been awesome," Kristen laughs.
ABOUT LIT & CO. CANDLES
Lit and Co. Candles has been creating beautiful home fragrance since 2012 using all natural soy wax sourced, processed and packaged in the United States, pure fragrance oils infused with natural ingredients, cotton braided wicks and reusable tin or glass containers with clean liners -- just the way it should be.
Lit & Co. candles are available at many fine boutiques and salons around the U.S., Canada and Australia. All candles are handcrafted in small batches out of the company's retail shop in Boise, Idaho.