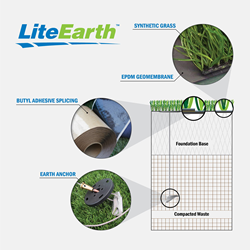 LiteEarth is the only capping system utilizing the flexibility and durability of EPDM fused with high-quality artificial grass.
Austin, Texas (PRWEB) August 25, 2014
LiteEarth will be exhibiting their environmental land capping system at the Wyoming Solid Waste and Recycling Association (WSWRA) Annual Conference August 25-28, 2014 in Casper, Wyoming.
LiteEarth is an engineered liner composite applicable for long-term closure of Municipal Solid Waste (MSW), Coal Combustion Residuals (CCR), Monofils and Mining sites. The lightweight capping system consists of an impermeable 45 mil EPDM permanently adhered to synthetic grass. The liner replaces multiple layers required for traditional earth capping, which minimizes on-site construction and installation issues, while providing significant reduction in maintenance costs.
LiteEarth has been tested to withstand extreme weather conditions, and mitigates issues of erosion, wrinkles, wind uplift, infiltration, slope failure and more. It is an environmentally-superior option, conserving natural resources and leaving a lower carbon footprint versus traditional caps. LiteEarth eliminates the use of fertilizers, pesticides, fungicides and mower exhausts required for natural grass maintenance. Non-toxic surface drainage maintains water quality and provides odor containment.
The WSWRA Conference features educational opportunities, best practices in waste management and recycling programs, new products and services, and updates on regulations and future plans for landfill operators and managers.
For more information on LiteEarth, see http://www.LiteEarth.com, or visit their booth space at the 2014 WSWRA Conference.
About LiteEarth
LiteEarth is an advanced, engineered and fully-tested earth capping system which permanently combines synthetic turf and EPDM geomembrane into a long-lasting composite using an industrial grade adhesive. The result is an efficient, economical and environmentally-responsible closure solution with very low installation and life cycle costs. The system meets or exceeds requirements for final cover as specified in RCRA Subtitle D closure and post closure regulations. LiteEarth synthetic turf is manufactured by industry leader Act Global.