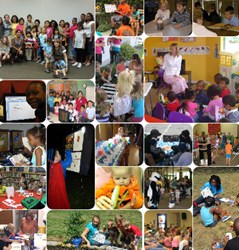 This year's winner, Homewood Public Library, showed us that a public library's reach can extend to many unique locations in the community to impact as many different people as they can.
Chester, PA (PRWEB) January 28, 2014
AWE, Inc. is pleased to announce the winner of the 2013 awe inspiring: AWE's Literacy Success Award. The winner of the third annual award is Homewood Public Library in Homewood, Ill. A panel of five judges selected the winner. Homewood Public Library will be presented the award at the Public Library Association (PLA) Conference in March in Indianapolis, Ind. As the winner, Homewood Public Library will receive an AWE Early Literacy Station™ or AfterSchool Edge™.
"This award recognizes the work libraries do to promote literacy and learning in their communities," said Paul Getzen, Director of U.S. Library Sales for AWE. "We would like to thank all of the libraries that submitted a program. This year's entry total was the highest yet! We are always so impressed by all the amazing programs happening in libraries. This is just another testament to the vital role public libraries play in our society."
Homewood Public Library's winning submission is called Storyhour on the Road. The program involves library staff taking story time on tour to a variety of interesting locations in their service area including local parks, commercial stores, a fire station, a fast food restaurant, and a farmer's market. They read books with the public, sing songs, make a craft, and promote the library and their reading programs. Their goal is to reach families who may not typically come to the library as well as regular patrons who may be out and about. The program has also resulted in the creation of great partnerships with the park district and local businesses. Storyhour on the Road helps build a sense of community, creates awareness for the library's services, and supports local businesses—who in turn support the library. Homewood Public Library's plan is to continue to grow the program.
The runner-up finalists included Listen @ the Library from the Stark County District Library - Madge Youtz Branch in Canton, Ohio; AWESOME Club from Ellinwood Community Library in Ellinwood, Kan.; OWLs Book Club from Howland Public Library in Beacon, N.Y.; and Skills Challenge from Orange County Library System in Orlando, Fla. Details of all of the programs submitted as well the judges' bios can be found at http://www.awelearning.com/literacysuccessaward.
---
About AWE, Inc. (http://www.awelearning.com)
AWE's mission is to inspire children to become lifelong learners and to facilitate a "community learning" network that includes public libraries, schools, child care centers, and the home. AWE's engaging digital learning solutions feature intuitive learning environments, are easy to use, feature educational content across all subject areas, and can be personalized for every child. For more information, visit http://www.awelearning.com.