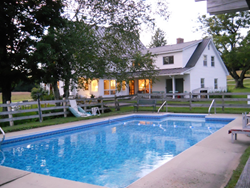 Author-agent weekends give new authors a chance to make influential contacts in publishing, as they network, learn the ropes and share their work.
Rochester, VT (PRWEB) August 19, 2014
When Words Count Retreat, a writers retreat in central Vermont, is now accepting applicants for its September 26, 2014 author-agent weekend, featuring Stephen Barr, senior literary agent at the prestigious, Manhattan-based Writers House literary agency.
Writers House is one of the largest literary agencies in the world and represents 134 bestselling authors, including 48 adult fiction authors, 25 adult nonfiction authors and 61 authors of bestselling children's books.
Up to eight authors will stay at the retreat for four days and three nights (September 26-29) with Barr, who represents writers in a broad range of fiction and nonfiction categories and genres – and who is actively looking for new clients. Participating authors will dine with Barr at least twice a day and attend two 90-minute workshops that he will lead. Each evening, they also will have an opportunity to read him excerpts from their books during informal, group critique sessions.
"Author-agent weekends give new authors a chance to make influential friends in the publishing world, as they network, learn the ropes and share their work," says Jon Reisfeld, senior vice president at When Words Count Retreat. "These events are just one more way in which we are helping new voices gain entré to traditional publishing."
Barr, who describes himself as an "omnivorous agent" likes, reads and represents everything from children's books (picture books, middle grade and young adult) to graphic novels, literary fiction and nonfiction. His particular preferences for literary fiction include any book that "rewards the reader line-by-line and gets to know at least one character really, really well." He also likes mysteries and ghost stories that "bend reality," humor and even the occasional unexpected "curve ball" book. Currently, his nonfiction preferences run to "unexpected memoirs with itchy voices" and narrative nonfiction that "tackles hard-to-tackle issues." He also has an interest in pop-culture, food stuff and, as he puts it, "weird stuff."
Barr will lead two 90-minute workshops during the weekend. The first, "All the World's a Stage" will teach authors how to treat their story's setting as a main character. The second, "Para-Abnormal" gives them Barr's insights on how to "simultaneously respect the genre you're in and break free from it."
Barr has a substantial roster of active clients. His most recent sales and forthcoming adult books include: The Accidental Savant, Jason Padgett & Maureen Seaberg (Houghton Mifflin Harcourt); Fakebook, Dave Cicirelli (Sourcebooks); The School of Lost Cats, Nancy Davidson (St. Martin's); Buried in the Sky, Peter Zuckerman and Amanda Padoan (W.W. Norton); Punching Tom Hanks, Kevin Seccia (St. Martin's); and Street Freak, Jared Dillian (Touchstone). He also is active in children's literature with sales to his credit for: I'm Trying to Love Spiders, Bethany Barton (Dial); Alice and Lucy will Work for Bunk Beds, Jaime Temairik (Hyperion); One More, Jennifer Hansen (Viking); Just Fraidyzoo, Thyra Heder (Abrams); Shark, Katherine Roy (Roaring Brook); Sometimes I Forget You're a Robot, Sam Brown (Dial); When My Baby Dreams, Adele Enersen (Balzer + Bray).
Applications for the Stephen Barr Author-Agent weekend are being accepted on a first-come, first-served basis, and authors interested in attending will find additional information and sign-up links at: http://whenwordscountretreat.com/agent-in-residence-weekend/. All reservations are subject to review, by When Words Count Retreat, of the first 10 pages of the author's current manuscript.
About the company: When Words Count Retreat has hosted more than 275 authors since it opened in October, 2012. The retreat provides authors with total escape from daily chores and the chance to focus, exclusively, on their writing. When Words Count Retreat also offers highly productive two-on-one book coaching workshops in which Steve Eisner and Jon Reisfeld help authors improve their works and advance them toward submission for publication. For more information, visit http://whenwordscountretreat.com.