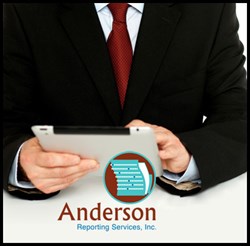 Columbus, OH (PRWEB) September 09, 2013
For over 23 years, Anderson Reporting has provided attorneys, paralegals and legal teams throughout the state of Ohio and nationwide with the most up-to-date litigation technology available.
In maintaining their reputation as Ohio's premier provider for advanced litigation solutions, the court reporting company now offers complete mobile device integration with technology-based services, such as: Realtime reporting, Internet streaming and ARSWeb, an online repository for case files. Anderson Reporting will connect attorneys to their legal team and information at any time, in any place, using any device.
"It's part of our mission to ensure that attorneys and paralegals have the tools necessary to succeed," said Gayle Anderson, President and sole-owner of Anderson Reporting. "We have refined our services to meet compatibility requirements with iPads, tablets and smartphones and can connect directly to the client's personal device or provide mini iPads and laptops for them."
With this level of assimilation, attorneys at the proceeding can now receive realtime text directly on their mobile device. Users can mark lines or important testimony, jump to marks created throughout the deposition, pause/follow the realtime feed and create notes that are affixed to the relevant lines of the realtime transcript. The transcript file can then be saved and exported with annotations to the user's computer for review and case preparation.
For attorneys and legal teams wishing to attend a proceeding remotely, Anderson has a solution for that as well. Internet streaming uses a secure, password protected and encrypted portal that allows participants to observe a live proceeding via their personal mobile device or computer. All that is needed is an Internet connection and an Anderson issued portal link and password.
With a unique Apple application, attorneys and paralegals can also access their case information, personalized calendar and scheduling tool from their personal mobile devices for quick and secure connection to exhibits, transcripts calendar information and more.
By providing the most advanced litigation support solutions in the industry, Anderson Reporting endeavors to assist clients in achieving their goals with efficiency and simplicity. For more information, contact Anderson Reporting toll free at 1-800-753-0289 or 614-326-0177. To schedule services online visit http://andersonreporting.com/OnlineScheduling.